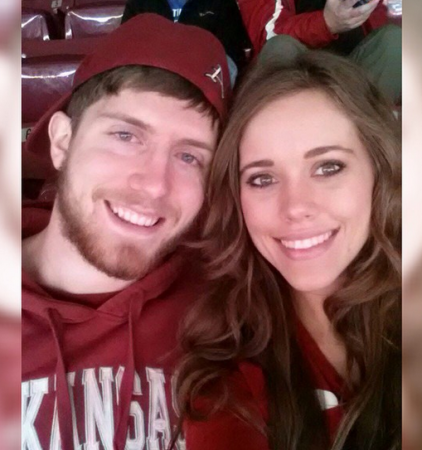 The '19 Kids and Counting' star, Jessa Duggar, had recently mentioned that she wants to mainitain a healthy lifestyle throughout her pregnancy so that she does not gain weight. But looks like she has ultimately given into her pregnancy cravings. Her recent Instagram update shows her with a satisfying meal from Arby's.
Though the mom-to-be had earlier been taped having a fruit smoothie, she ultimately gave in to her fast food cravings and was seen with her husband, Ben Seewald, picking up a drink and a sandwich.
"Lunch date with my man," Jessa wrote on Instagram while snapping a selfie with her husband. "Yeah...because 'the baby' was craving Arby's. I love being able to use that excuse. #BabySeewald #RoastBeef #ArbysSauce #JamochaShake."
And the shake has just the right amount of caffeine for the 22-year-old to satisfy her coffee craving.
Earlier this week Jessa had also revealed to the People Magazine that she is trying not to gain weight and also stay fit and healthy through her trimesters.
"I want to gain a little less weight and not stress out about it," she said. "I do want to make sure that I'm eating healthy. You are eating for two but the other is, like, a speck. I am trying to make healthy choices now that I'm entering my second trimester."
The couple, who have been married for six months now, are expecting their first child on 1 November, which also happens to be the date of their first wedding anniversary and they cannot believe that they are going to be parents in a couple of months.
"We are so excited. We have started talking baby names," Jessa had earlier revealed to People. "It is one of those things that is so special, picking a name for a baby." But just like her parents, the reality star does not wish to stop at one.
"Our hearts haven't changed on adoption," Jessa told the website. "We're still making plans."