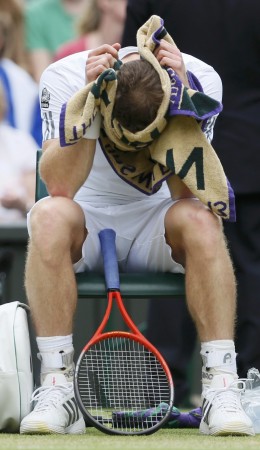 Preview
Andy Murray takes on Jerzy Janowicz in the semi finals of Wimbledon 2013. The Scot is aiming to become the first British player to win the tournament since Fred Perry in 1936. As a result, pressure on him is immense and how he copes with the expectation will go a long way in determining the success he achieves. With Rafael Nadal and Roger Federer already knocked out, Murray will take on Polish Janowicz, who has surprised the world with his performances at SW19 this year. Janowicz is the first Polish player in history to reach the semi finals of the tournament and will hope his big serves can spoil the Murray party expected at Center Court. Standing at 6ft 8inchs, the Pole has the most aces in the tournament so far.
Where To Watch
The men's semi finals are scheduled for Friday, 5 July. The Murray-Janowicz match will begin on Center Court immediately after the Djokovic-Del Potro match at apporximately 7:30 pm IST. Live coverage is available on ESPN and ESPN HD.
Previous Match
Murray and Janowicz had contrasting quarter final matches. Janowicz was able to breeze past countryman Lukasz Kubot in straight sets 7-5 6-4 6-4, while Murray toiled to a five-set victory against Fernando Verdasco 4-6 3-6 6-1 6-4 7-5.
With fellow Scot Sir Alex Ferguson looking on, Murray fell to a two-set deficit. The Spaniard took the game to Murray right from the start, looking to attack at every opportunity. As Verdasco won game after game, pressure began to build on Murray, prompting a furious profanity filled rant after losing the second set. However, to his credit, Murray was able to pull through, refusing to capitulate as he had done earlier in his career.
After the match, Murray claimed that he is able to deal with going behind now better than he had done previously.
"I think when you play more and more matches and gain more experience you understand how to turn matches around and how to change the momentum of games," he said. "That can be tactical and sometimes it can be your opponent. But often, you need to be the one making the change. Maybe when I was younger I could have lost that match. But I think I've learnt, yeah, how to come back from tough situations more as I got older."
His opponent tomorrow, playing in the first Wimbledon quarterfinal to feature players of the same nationality since 2000, was completely dominant. With 30 aces and powerful ground strokes, Kubot had no answer to Janowicz physicality.
Janowicz spoke of his excitement at the prospect of playing his first grand slam semi final.
"Right now I'm the most happy person in the world. I made semifinal of Grand Slam, my best result ever," he said before mentioning the pressure Murray is under. "I hope Andy will feel some kind of pressure. I'm sure he feels some kind of pressure because Great Britain is waiting for the English champion in Wimbledon."
In a show of good faith, Janowicz and Kubot exchanged t-shirts after the match.
Head-To-Head
The players have met on two previous occasions, with one victory each. Their last meeting was at the Masters Series tournament in Paris 2012. With the help of 22 aces, Janowicz won the game 5-7 7-6 6-2. Murray's victory came during a 2009 Davis Cup match. The Scot won 6-3 6-4 6-3.