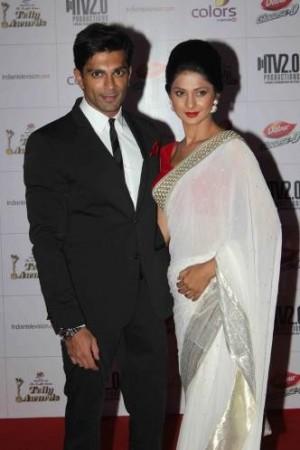 Star couple -- Jennifer Winget and Karan Singh Grover – separated long ago, and looks like "Phir Se" actress is finally ready to move on in life.
To be married to the love of your life and then split after a brief marital bliss can be harsh, but Jennifer has managed it all pretty well and that too with a stern silence. According to a Telly Chakkar report, she has now deleted her pictures with Karan from her Twitter account.
"I haven't closed any doors. I have just opened a new one. Let's see where this takes me. I don't really plan so much in life," she told Deccan Chronicle in an interview, last month.
Like any other celebrity couple, this one too fell prey to infidelity rumours. While the "Alone" actor was linked with his debut film co-star Bipasha Basu, Jennifer and Gautam Rode's friendship was made out to be something 'special'.
A friend of the couple's told The Times of India that it was the suave actor's roving eyes, which forced wifey to live separately. Karan reportedly said he doesn't believe in the institution of marriage and that he wanted to be a free bird.
However, these are mere speculations and none of it has been confirmed by the concerned parties yet.
Interestingly, the actress has stayed tight-lipped about her broken marriage, but the "Dill Mill Gayye" actor spoke at length as to why they both don't owe answers to anyone regarding their decision to end the tie.
"I have seen a lot of couples fight, while growing up. And I would never want my kid to witness that while growing up, parents making each other so unhappy. Why live that life? Once you come to that realization, mutually, you make the difficult decision to separate," Miss Malini quoted him as saying.
He confirmed the divorce news in December last year on Twitter.