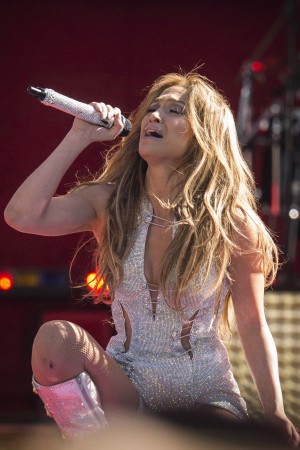 Jennifer Lopez shares a sizzling chemistry with her "The Boy Next Door" co-star Ryan Guzman. The singer-turned-actress brought the actor as her date at the Golden Globes. The hunky actor walked alongside Lopez with such aplomb that the duo's red carpet appearance triggered massive reaction fans.
Many of them gushed about the duo's glamorous dressing sense, while others said that they make a hot couple. Here are a few Twitter reactions:
Ryan Guzman and Jennifer Lopez are about to make the world go crazy with The Boy Next Door. I can't wait to see it omfg

— Roland.. (@Rollie_Pollie_) January 12, 2015
Ryan and Jennifer would be the best couple ever. @JLo @ryanAguzman — troubeaux. (@Gorgeous_jlo_) January 12, 2015
Lopez and Guzman have been linked since the first trailer of their film - "The Boy Next Door" - was released. It showed the duo indulging in an intense love-making scene. In the trailer, Guzman is seen caressing Lopez's envious figure as she stands by the wall. The 45-year-old actress also said in her recent interview that she did not use a body double for the scene, as she wanted to keep it real. "It was all me. And all Ryan, by the way," she said in her interview with E online. She, however, thinks that it is "embarrassing" and "uncomfortable" to perform such acts in front of the camera.
The on-screen duo has also made various appearances together as part of the film's promotional strategy and this has further ripened the speculation of their off-screen romance. However, Lopez maintains that she is single.
"I'm single right now. I think being on my own has been really great for me. There was a time where I was just like 'Ehhh, I'm just not going to deal with anybody, I just want to be on my own.' Now I'm getting back into the mix. For right now, I just have no announcements to make," she said to US Weekly.
Lopez has recently split from her boyfriend Casper Smart. She dated him for almost three years post her divorce from Marc Anthony. On the other hand, Guzman called it quits with Melanie Iglesias last year.