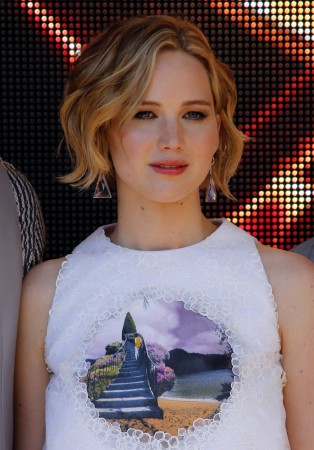 Jennifer Lawrence suffered a wardrobe malfunction while leaving the "The Hunger Games: Mockingjay Part1" premier party on 10 November in London. The Oscar-winning actress suffered a nip-slip as she sat in the car to head back home.
The actress wore a cleavage-baring white halter dress for the occasion and coupled her look with minimal make-up and a pair of black earrings.
Reportedly, Lawrence was not too perturbed by this as she carried on her conversation with friend Lorde, who was sitting beside her in the car. Lawrence continued laughing and talking even as the photographers clicked her pictures.
The "Silver Lining Playbook" actress is not new to controversy. In August, she became the victim of a major hacking scandal, where her very private photos were leaked on the Internet. The photos were reportedly stolen from Lawrence's iCloud account. Lawrence reacted strongly to the hacking and the photo leaks calling it a "sex crime".
"Just because I'm a public figure, just because I'm an actress, does not mean I asked for this. It does not mean that it comes with the territory. It's my body, and it should be my choice, and the fact that it is not my choice is absolutely disgusting. I can't believe that we live in that kind of world," she told Vanity Fair.
Apart from Lawrence, many other celebrities like Kaley Cuoco, Arian Grande, and Kim Kardashian were victims of the hacking scandal. Most slammed the scandal, while some denied the authenticity of the photos.
Rumour mills are working overtime hinting that Lawrence wants to get back with Chris Martin. The duo had started dating in July, but pulled the plug on their relationship last month. Though they never went official with their relationship, the reason for their sudden split was said to be Martin's ex-wife Gwyneth Paltrow.
"Jennifer and Chris split because Jen felt like a third wheel in the marriage. She loves Chris and wants to give their relationship another try but only if he agrees for certain things to change," a source has revealed to Daily Star.
Before dating Martin, Jennifer was in a relationship with her "X-Men" co-star Nicholas Hoult, who is now rumoured to be dating Kristen Stewart.