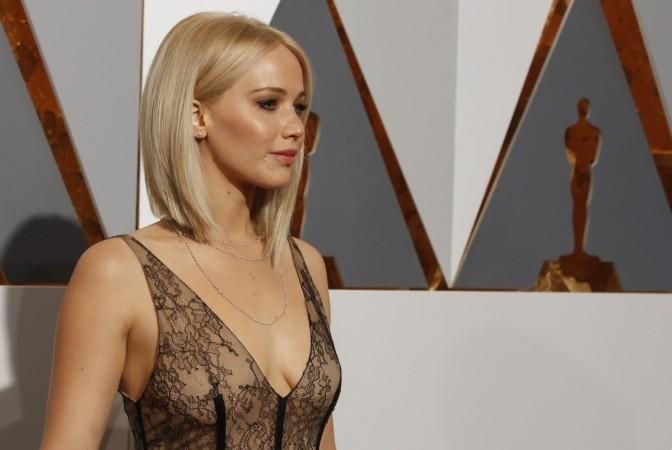 Jennifer Lawrence gave paparazzi plenty to click when she decided to go braless while wearing a sheer top on Tuesday. She was attending "An Evening With Sony Pictures Entertainment" at CinemaCon 2016 in Las Vegas.
Lawrence was wearing a skirt and black tank top that went completely transparent under the flashing lights of the cameras. According to some reports, she did not expose too much as she was wearing nipple covers.
Lawrence is not new to embarrassing moments such as wardrobe malfunctions. In 2013, the actress had a fashion disaster when her pants fell down and last year, while making an appearance on "The Tonight Show," she explained how a Tom Ford dress with a zipper resulted in her flashing her butt to famed director Francis Ford Coppola.
Wardrobe malfunctions aside, Lawrence, a champion for equal pay, received a lot a lot of praise from Bono on Tuesday for her stand on gender equality. In a candid Facebook Live Q&A for his ONE organisation, the singer praised the "Hunger Games" actress for starting a dialogue about the pay gap in Hollywood.
"Gender equality is at the center of any movement that holds fairness, freedom, and justice as its core values," Bono wrote. "In Hollywood, Jennifer Lawrence, speaking about how actors are paid. Women have this incredible thing – bond I think you have. More than men. Women have a great sense of solidarity. It's women saying they will not have it anymore. They will not take the bad deal."
The vast difference in the wage paid to male and female actors were exposed during the Sony hacking scandal last year. Leaked documents showed that Lawrence and Amy Adams were paid less than their male co-stars.
Talking about the difference in the payment they received, Lawrence wrote in the October edition of Lenny that she blamed herself for being paid less. "When the Sony hack happened and I found out how much less I was being paid than the lucky people with di--s, I didn't get mad at Sony. I got mad at myself," she wrote. "I failed as a negotiator because I gave up early."