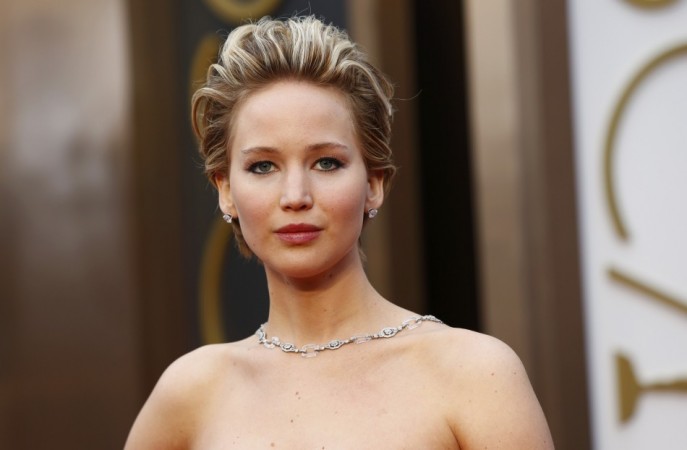 Jennifer Lawrence was recently spotted with a ring on her engagement finger. The "Hunger Games" actress was seen spending some lone time with her boyfriend Nicholas Hoult on April 24 in London, with a rock shining on her hands. Does that mean J-Law is engaged?
The 23-year-old actress has been dating Hoult for more than three years now and speculations are rife that the couple may walk down the aisle soon. Lawrence and Hoult met for the first time while filming for "X-Men-First Class" in 2011. They broke-up after a while, but reunited during the shoot of "X-Men: Days of Future Past". The couple is said to have a rock solid romance since then.
J-Law and Hoult have made to many red carpet events together. The couple was seen sharing a kiss when J-Law recently won the best actress in comedy at Golden Globes. The couple also sat together during the 2014 Academy Awards. J-Law was dressed in an elegant red gown for the ceremony and she looked perfect sitting next to Hoult.
The two shared tons of laughs when Oscar host Ellen DeGeneres made fun of Lawrence's Oscar fall. Lawrence has tripped during the Oscar's twice in a row. This year she had an epic fall just seconds after she hit the red carpet. She lost her footing and fell on her face. However, Hoult was on her side to help her pop back.
While the two have grueling work schedules, they reportedly talk to each other regularly on Face Time and Skype dates, reported Hollywoodlife. The couple will get to spend a lot more time together when they start with the promotions of "X-Men: Days of Future Past"
Though there is no confirmation on whether the couple is engaged or not, lets hope that they take the wedding vows soon and live happily ever after.
[ED:VS]