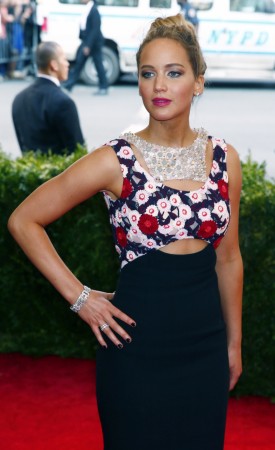 "The Hunger Games" actress Jennifer Lawrence was recently seen out and about New York City with her bodyguard Greg Lenz, who has managed to grab a lot of paparazzi attention thanks to his good looks.
Lenz was first spotted with Lawrence, who was looking for an apartment, in Manhattan's Tribeca neighbourhood on 10 June. The next day, he was spotted holding Lawrence's pet dog and her bag as he guided the actress through the crowd.
These photos of Lenz have gone viral, and he has since amassed a huge fan following as well. There are many who believe Lawrence should ditch her current boyfriend, Gwyneth Paltrow's ex Chris Martin, for this hot hunk.
"I don't know why she picks hot bodyguards but dates unattractive Men. She needs to do the opposite," read one online comment. "If you google image him - he has topless modeling pictures and he fineeee... Hopefully she dumped Chris Martin - for this dude. Martin is way too old for her and it is gross and insanely creepy," another noted.
"Holy smokes! That guy is hot!!! Why do I have the Bodyguard movie playing in my head? I would much prefer the Kevin Costner type bodyguard. This one is a little too model-ish for me but he is still a cutie! Heck! Put down the dog and carry her to the car :)," another message read.
Sadly, according to Us Weekly, Lenz is married.
Interestingly, this is not the first time that one of Lawrence's bodyguards have stolen the attention from her. Last December, social media went on a frenzy after pictures of her then bodyguard Justin Riblet went viral.
He was supposedly a favourite among the ladies in Lawrence's team, and when questioned about what happened to him, a source told Us Weekly that "it's common for them to switch off guys dealing with the more intense clients."
The source also noted that Lawrence has a type when it comes to her bodyguards and that she clearly likes the hot ones.