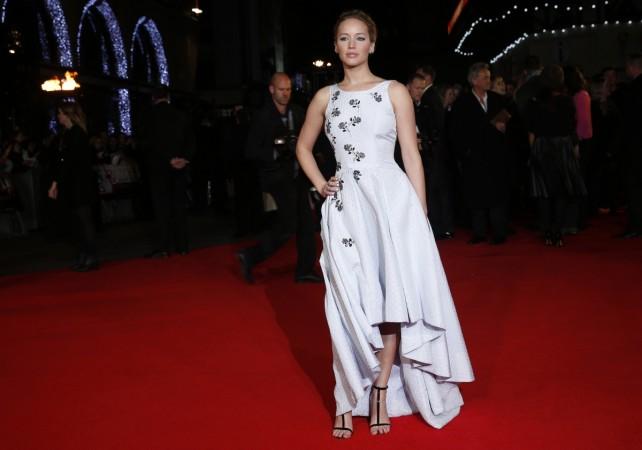 Gwyneth Paltrow is reportedly unhappy with her estranged husband Chris Martin's relationship with Jennifer Lawrence and a new report claims that the "Iron Man" actress had a meltdown of sorts when the couple rekindled their romance after a brief break up.
Lawrence and Martin got together in June, and roughly four months later they called it quits reportedly due to Martin's closeness to his estranged wife. But they are back together, and this is what has caused Paltrow's alleged meltdown.
In Touch magazine claims that Paltrow, who was enroute to a Halloween photo shoot, got flustered when she was told about Lawrence constantly hanging out at the "Coldplay" frontman's Malibu home. This prompted her to start smoking heavily and at one point she even urged her driver to get her a drink so that she could calm her nerves, a source told In Touch magazine.
"She never smokes or drinks like that," the insider said, "so everyone knew something was up. She was a mess all day," the source said, adding that she was chain-smoking and "frantically texting Chris."
Meanwhile, Hollywood observer Sarah Linas feels that Paltrow's strange behaviour might have to do with the fact that her husband is dating someone who is almost 20 years younger than her.
"The fact that Chris got together with someone almost 20 years younger than her — and an actress — has been really hard for Gwyneth," Linas told National Post. "It feeds into all her insecurities. She's 42 and that is a hard time for women in her business."
"Jennifer is the actress everyone wants to hire. Gwyneth is in that limbo age — too old to do the action roles or romantic leads, too young, or maybe still just a bit too beautiful, or perhaps just not good enough, to play the big character parts."
Paltrow announced her decision to split from Martin through her lifestyle blog Goop in March. Calling it "conscious uncoupling" Paltrow said that they were having problems for over a year, and although they loved each other they had decided to go their separate ways.
"We are, however, and always will be a family, and in many ways we are closer than we have ever been. We are parents first and foremost, to two incredibly wonderful children and we ask for their and our space and privacy to be respected at this difficult time," she wrote.