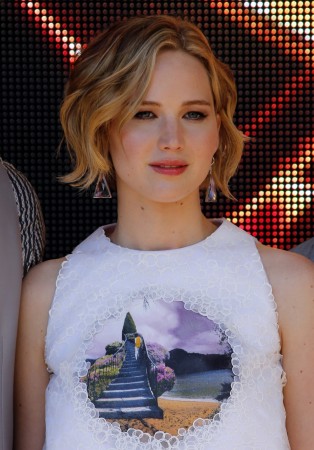 After just four months of dating, actress Jennifer Lawrence's romance with "Coldplay" frontman Chris Martin seems to be over.
Although the pair has been dating since June, news of their relationship started doing the rounds only in August, and since then Lawrence and Martin have been spotted together hanging out at his Malibu property. Martin was also seen kissing the actress at a Kings of Leon concert in Hollywood recently.
But last week, a downcast Lawrence was photographed leaving the movies with a gal pal, just a day after Martin met with his ex-wife Gwyneth Paltrow for a family dinner.
Martin and Paltrow, who were married for more than a decade, announced his separation in March. The two even share an amicable relationship, which have many wondering if they will indeed get a divorce.
For instance, TMZ captured the video of Martin and Paltrow after their family dinner last week, and the footage shows them indulging in public display of affection. At one point Paltrow can be seen reaching out and touching Martin's head and tousling his hair.
A source who was at the Katsuya Brentwood told People Magazine that they "seemed like a happy family" during dinner. "They all seemed very happy and were getting along," said the diner. "Chris kept showing Gwyneth what looked like pictures on his phone and they were smiling."
The cause of the split appears to be Martin's bond with Paltrow, who is said to have a lot of control over the rockstar, a source told HollywoodLife. Was Lawrence the Coldplay musician's rebound girlfriend?
"Jennifer just couldn't compete and didn't want to. Chris is clearly not over Gwyneth and his main priority is his kids. Jennifer really respects him, but she wants a man of her own. And Chris has been spending lots of time with Gwyneth and their kids lately. It was just a bit too much for Jen. She doesn't want to be second to anyone. You can't blame her," the source added.
"Gwyneth still has a lot of control over him, which isn't exactly desirable to prospective girlfriends," the source HollywoodLife source said. "The way things are at the moment, no sane person would want to be an accessory to their conscience uncoupling."