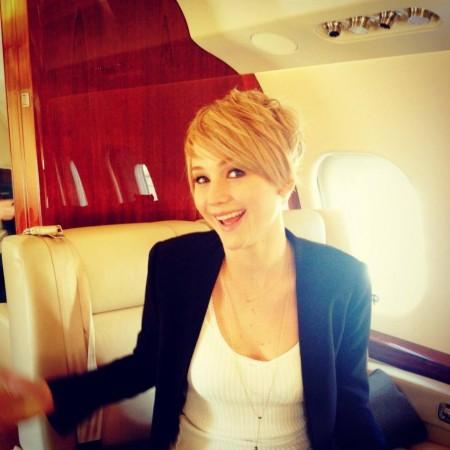 Jennifer Lawrence is back to being a blonde, but this time has traded her long tresses for a pixie hair cut.
Just days after Jennifer Aniston debuted a bob-cut hair do, the "Hunger Games" star has also opted for a shorter hairstyle.
Lawrence revealed her new look through a picture she posted on her Facebook account. The picture shows the actress in her spunky new hairdo with a look on her face that seems to be saying "Surprise!!!"
Her new look is not for any film role. Lawrence opted thought her locks had grown to an "awkward length" and hence decided for a dramatic makeover for her hair.
"It grew to an awkward gross length, and I kept putting it back in a bun and I was like 'I don't want to do this,' so I just cut it off," Lawrence said in a Tumblr Q&A and a sit-down with Yahoo CEO Marissa Mayer.
"This isn't how Katniss is going to look in the next movies; I'm wearing a wig for filming," she told concerned members of the audience, who were wondering how the 'do would affect her role in "The Hunger Games" series.
In the same conversation, she revealed that she had a huge Hollywood crush on popstar Justin Timberlake.
"Justin Timberlake. Early 90s Justin Timberlake. I remember buying the *NSYNC CD. Remember how CDs had the pullout picture things? I got so overwhelmed with hormones I almost threw up!" she said.
The actress is all geared up for her upcoming film "The Hunger Games: Catching Fire" which is slated for a release on 22 November.