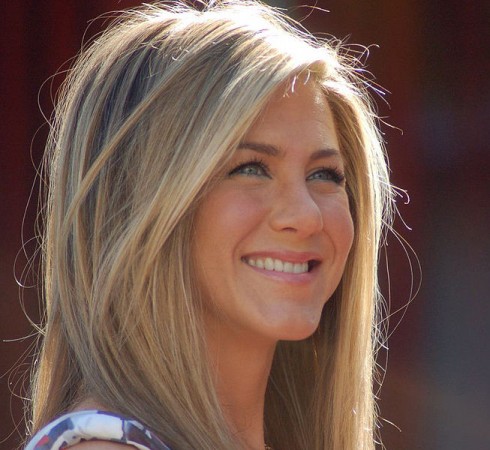 Jennifer Aniston's friends -- Courteney Cox, Ellen DeGeneres and Chelsea Handler – reportedly think she is making a huge mistake by marrying Justin Theroux, and they are trying to convince her to dump him before much damage is done.
These claims were made in the latest issue of OK! Magazine, which also states that Theroux's "cold behaviour" has put a strain on Aniston's friendship with her pals.
"Jen's friends think Justin is aloof. They say that he's never made an attempt to get to know them, and they think he has zero personality," a source told the magazine, according to Gossip Cop.
"They think Justin is the coldest man Jen's ever dated," another added. "When he's been around Courteney, Chelsea and the others, they say he goes out of his way to make them feel like outsiders. His world is the only one he cares about — he's never really embraced Jen's world, and it's caused a huge strain on her friendships."
Aniston and Theroux got engaged almost two years ago, and according to the June 30 print edition of In Touch magazine, the actor has no intention of marrying the "Friends" star, Celeb Dirty Laundry reported.
Reportedly, their wedding is currently off, and earlier reports suggested that Aniston wasn't pleased with Theroux hinting that she has a drinking problem when he suggested that their wedding should be alcohol-free.
Rumors swirling around suggest that Theroux's hesitancy to get married has been causing a lot of tension in their relationship.
"Jen is totally capable of quitting and has never gotten into trouble with her love of vino but Justin doesn't like how she'll easily down a bottle of wine a night without batting an eyelid," a source told Radar Online.
"He really wants her to quit and has been pushing for a non-alcoholic wedding - an idea that was met with great laughter by Jen and her girl crew."
The source added that Theroux was working towards making Aniston stop drinking entirely.
"The older Justin gets, the more he's become a super health freak, and he wants Jen to follow suit. She's definitely slowed down her drinking since she and Justin hooked up, but she still loves two or three glasses of wine every night. Justin's hope is that she's going to give that up soon," according to the Radar Online source.