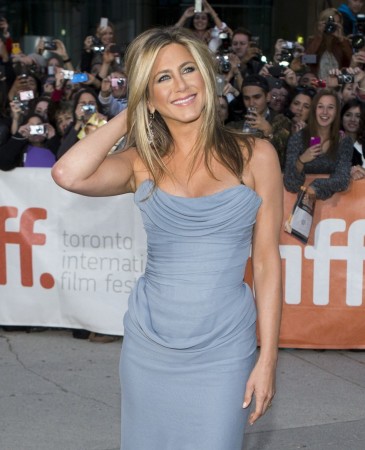 Jennifer Aniston is reportedly getting a facelift. Buzz suggests that Aniston is preparing herself for George Clooney and Amal Alamuddin's wedding.
Apparently, Brad Pitt and Angelina Jolie would be present at Clooney and Alamuddin's wedding and it is understood that Aniston wants to look younger and refreshed before running into her ex beau.
"Jennifer is still tormented that Brad ran off with Angelina Jolie [nine years ago]. Jen wants to look younger than Angelina — and hotter than ever," a source told National Enquirer, according to Celebdirtylaundry.
"Jennifer's plan is to make nice with both of them and be not only the bigger person, but also the hottest," the source added.
Not only have these rumours not been confirmed, it seems quite unlikely that Aniston would take a step like this, now that she is happy with Justin Theorux.
"It doesn't feel like a hardship," Theorux told Details Magazine about his relationship with Aniston. "It doesn't feel difficult. It can be an annoyance, but it's not the end of the world. You have to center on what its core thing is, which is that you met someone you fell in love with. It's hard to explain. I just find myself wondering, What's the big f--king deal?"
Aniston and Theorux got engaged almost two years ago and Theorux feels that most of the stories about him and Aniston are fabricated.
"You just kind of ignore it," he explained. "But then you also become reluctant to say anything about the relationship. I could say everything's good, and then it's reflected back as 'JUSTIN THEROUX: EVERYTHING'S GOOD?' That just creates this echo chamber, and it ricochets around the Internet, it just gets wacky"
Ansiton was married to Pitt from 2000 to 2005. However, the couple called it quits after Pitt got involved with Jolie on the sets of "Mr & Mrs. Smith"
"At first, Jen didn't believe he was involved with Angelina. She started asking around but no one would tell her anything because they were loyal to Brad, so she asked him point blank. He denied it.", Arnon Milchan, producer of the movie revealed in his book about the couple's split reported Daily Mail.