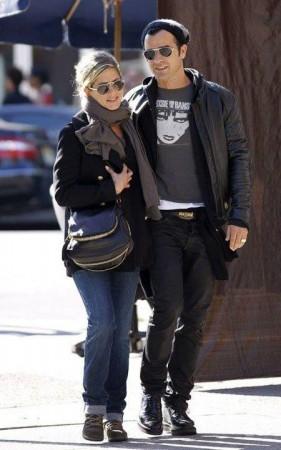 Hollywood actress Jennifer Aniston got engaged to actor-screenwriter boyfriend Justin Theroux earlier this month, and the couple is said to be on cloud nine with their new status.
Theroux was recently spotted having dinner at a New York restaurant with friends and onlookers said he looked his happiest following his engagement to Aniston.
"Justin was beaming all night. He was laughing so loud the whole restaurant could hear him. [They were] obviously having a great time," an onlooker told People magazine. "He looked like the happiest guy in the world."
The actor is not only the man in question rejoicing in his engagement. Surprisingly, Aniston's ex-boyfriends, Paul Sculfor, Bradley Cooper are also extremely happy that she finally found someone to spend the rest of her life with.
"I'm happy for her, I'm happy she's finally found someone she likes because everyone should in the end, shouldn't they," Femalefirst quoted Sculfor as saying.
Aniston and Sculfor dated for a short while in 2007 after her split from Brad Pitt. Prior to meeting Theroux, she has dated a string of men in her life including Vince Vaughn, British model Paul Sculfor, Owen Wilson, singer John Mayer and Bradley Cooper among others.
Apart from getting blessings from her exes, friends and family, Aniston is said to be overwhelmed by the huge emerald-cut diamond ring that her fiancé had co-designed with the help of his jeweler friend.
"It's a rectangle with tapered diamond baguettes on the sides. It's beautiful. Just after Jen got engaged, she called all her friends and told them about it," a source told Life & Style magazine.
"She was so happy and said she loves the ring. I think she was overwhelmed and overjoyed by the size and beauty of it!" the source said.
Theroux proposed to his ladylove on a romantic dinner date on his 41st birthday. "Justin Theroux had an amazing birthday on Friday, receiving an extraordinary gift when his girlfriend, Jennifer Aniston, accepted his proposal of marriage," Aniston's representative Stephen Huvane said a day after the couple got officially engaged.