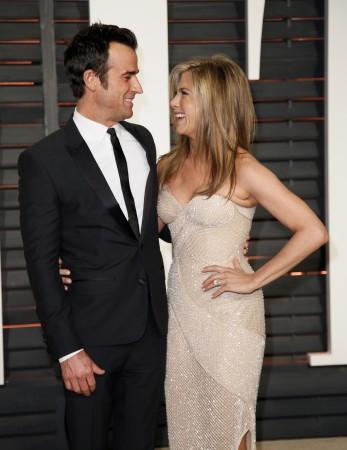 Jennifer Aniston, still best known as Rachel from "Friends", celebrates her 47th birthday on Thursday, Feb. 11, 2016. As everyone who has not been living under a rock knows, she is a relatively new bride, having wed "The Leftovers" star Justin Theroux in August 2015.
So, what has Theroux planned to celebrate his lovely wife's birthday? If his Valentine's Day plans are any indication, Aniston should not be expecting anything too extravagant. Theroux revealed to E! News Aniston and he would probably just get comfy in their pajamas and watch Netflix on Valentine's Day.
The couple had actually planned on going for a dinner date, but it looks like "Zoolander 2" promotions have gotten the star too tired. "You gotta take care of each other on Valentine's Day, every day. But we've actually scratched our dinner plans because I'm tired so we're probably just going to put on pajamas and catch up on some Netflix," Theroux said.
Clearly, the couple is happy to just spend some quality time with each other. And may be watching Netflix would leading to some "Netflix and chilling", as the kids say these days. Isn't that what Valentine's Day is all about anyway? Sharing and receiving love?
Aniston and Theroux had been dating since May 2011, and went on to purchase a home together in Los Angeles' Bel-Air in January 2012. They got engaged on Aug. 10, 2012, and after a long engagement of three years, got married on Aug. 5, 2015, at their Bel-Air home.