Canadian Prime Minister Justin Trudeau, who is currently on a trip to India, has "split up with the Friends star Jennifer Aniston" two days ago, according to a large section of users on Twitter and other social media platforms! The netizens apparently got confused between the actress' ex-husband Justin Theroux with the Canadian leader.
Theroux or Trudeau? Well, many are still struggling to figure out the difference between the two heartthrobs.
Mistaking the Hollywood actor for the Canadian PM is not a new trend on social media as many users have already been a part of this goof-up for a long time.
Jennifer Aniston, who is popularly known for her portrayal of Rachel in Friends, recently split with her ex-husband Justin Theroux after two-and-a-half years of marriage. They were also in a relationship for seven years before tying the knot.
"This decision was mutual and lovingly made at the end of last year. We are two best friends who have decided to part ways as a couple, but look forward to continuing our cherished friendship," a statement by the couple read after their high-profile split.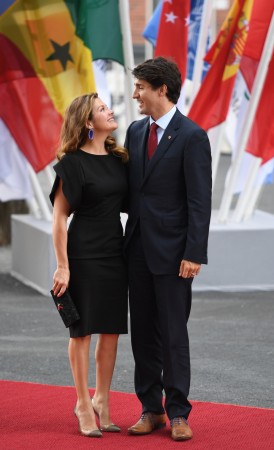 However, Twitterati wasted no time in mocking Aniston for being a real-life Dr Ross Geller, who had also been divorced thrice in the TV show. But, many Twitter users had forgotten that this was only her second divorce.
Although the names Justin Theroux and Justin Trudeau can be a bit confusing, we should not blame the Twitterati for this mix-up. Not only are their names similar but they also share the same age and both are Canadians of French-Canadian descent who can speak French fluently. They also share the same love for tattoos.
Trudeau, however, is happily married to Sophie Grégoire for 13 years. The first couple of Canada also has three children.
Theroux, on the other hand, split up with the 49-year-old Friends actress over a mutual separation. They, however, claim they are still best 'friends' and would continue cherishing their friendship together.
Twitter is not new to goof-ups as users even mistook Aniston to be the First Lady of Canada.
Here are some of the Twitter reactions that mistook the two 'Justins':
I confused Justin Theroux with Justin Trudeau and was so confused as to why Jennifer Aniston was dating the Canadian Prime Minister.

— Jennifer Green (@Jennifer_Cove) February 16, 2018
Either Justin Trudeau or Justin Theroux need to change their first name because today has been very confusing and it turns out Canada is not losing their first lady Jennifer Aniston.

— Eileen Danger (@TheEileenDanger) February 17, 2018
While watching the Olympics...

J: Can-a-da! Can-a-da!
M: Go Justin Trudeau-land!
J: I read about (Jennifer) Aniston and I thought...
M: Did you think Justin Theroux was Justin Trudeau, the Prime Minister?
J: Yeah, for a moment.

Ahahahahaha.

— soooooocrates (@soooooocrates) February 17, 2018