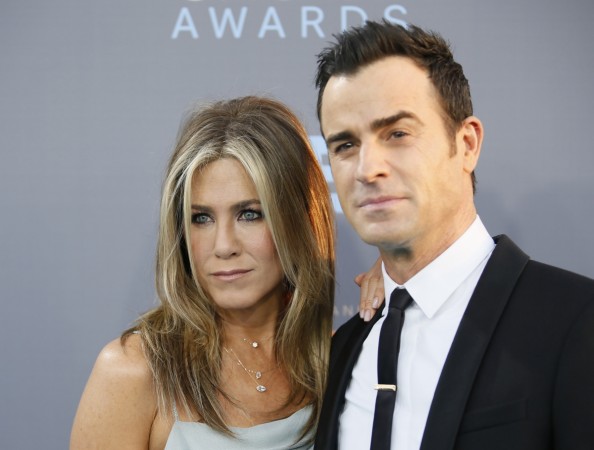 Jennifer Aniston is one of those celebs who don't seem to age at all. The 43-year-old actress has now finally revealed her beauty and fitness mantra and how her husband helps her with it.
Well, fans who admire the actress for being so fit even at this age finally have a beauty handbook from Aniston herself. In an interview with Elle, the "FRIENDS" star has revealed all about the cream she uses and the stuff she eats.
The actress once again mentioned that yoga has worked wonders for her to stay in shape. She also shared that her biggest stress buster is to roll down on the floor with her dogs when she gets back home after a long day on the sets. And before she goes to sleep, she washes her face and pats on Aveeno Absolutely Ageless Restorative Night Cream.
And what does she eat? "When I wake up, I have warm lemon water and then I have a shake or avocado and eggs, which is one of my favorites," Aniston says. "I sprinkle a little coconut oil on that. Sometimes, I'll have a puffed millet cereal with a banana or I'll do oatmeal with an egg white whipped in at the end," she revealed.
Well, this is not it. Aniston said it was her husband Justin who suggested that she add extra protein to her diet. "Justin [Theroux], my husband, taught me that little move to get extra protein! Right before [the oatmeal] is finished cooking, you just whip in an egg white and it kind of gives it this fluffy texture that's delicious," she said.
Her lunch and dinner is pretty much a basic one which includes some form of vegetables or salad with protein. Between meals, she snacks on an apple and almond butter or just an apple and some nuts.
Another thing that Aniston confessed to is how Theroux has let happiness into her world by bringing back pasta into her life. She was someone who swore by Mexican cuisine but now, the love has been replaced by pasta. "Pasta has taken over as my new favourite go-to-town food. Yes, he has brought the pasta back into my life," she said.
"I don't know whether I should thank him or hate him for that. I do thank him because he makes pasta carbonara and it is irresistible," she added.
The actress even shared the recipe. "I've learned how to make it. And it's not that bad for you. It's just an egg, parmesan cheese, and a little pasta water. And we substitute turkey bacon for real bacon, so, you know," she explained.