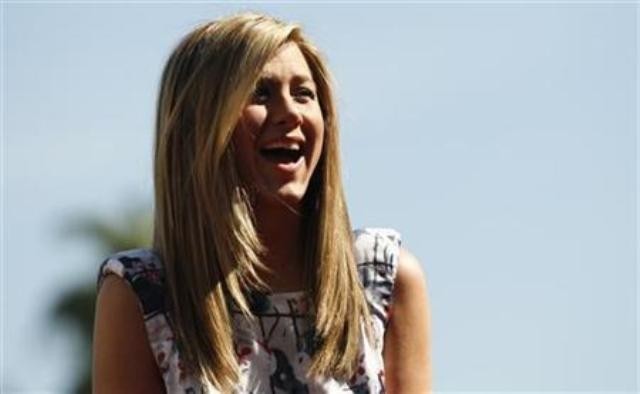 Reports are aplenty of "Friends" actress Jennifer Aniston either being pregnant or adopting a baby, but her representative recently slammed these news items as just rumours perpetuated to sell tabloids.
In recent time, various publications have claimed that Aniston was opting to adopt a baby as she was struggling from infertility issues. While the 45-year-old actress has remained mum on the subject, her representative recently debunked these reports.
"We don't have an answer to this question," Stephen Huvane told Page Six in response to the baby rumours. "It's beyond absurd and proves the point that no one should believe what's written in the tabloids and gossip columns and blogs."
While Aniston and her fiancé Justin Theroux do not pay attention to rumours, the 43-year-old actor recently told Australia's TV Weekly that they indirectly pressurize him to get married to his finacee of two years, reported Hello.
"There is this hum of pressure that – I can't stress enough – I don't pay any attention to," Theroux said. "But I am not going to let a tabloid tell me what to do… I'm not going to watch them tap their watch….We're just doing our own thing. We are completely happy, obviously, but we're not on anyone else's timeframe."
Ever since the actors got engaged in 2012, fans of the "Friends" star have been waiting to see her walk down the aisle. But from the looks of it, work commitments have been keeping them far too busy to plan their wedding.
For instance, while Aniston was busy reprising her role of a sex addicted dentist in the sequel to the hit comedy film, "Horrible Bosses," her fiancé is busy with HBO's drama series "The Leftovers."
When Theroux entered the industry, he had no set plans on how to progress his career. But he is both surprised and happy with what he has achieved.
"My career has followed no particular path," said the actor. "As I'm sure you're aware, I have the dumbest career in the world as far as 'Yeah, I'll do that'. I've really guided myself on what is going to be the next fun thing to do, I don't think of it in terms of, 'Will this be smart for my career?'"