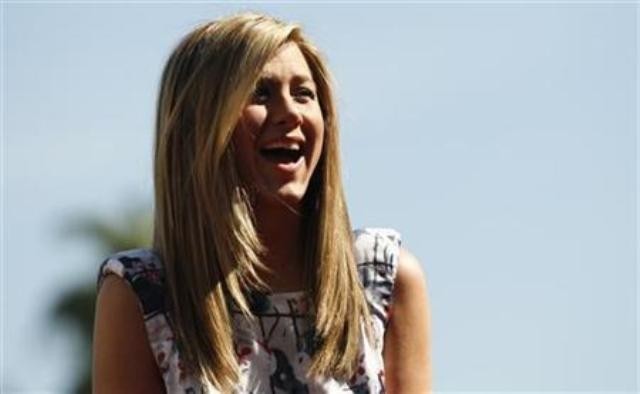 Television sitcom "Friends" has been a favourite among viewers for quite a while now, with re-runs being watched with equal enthusiasm even after the show downed its shutters in 2004. While fans have expected a reunion of the cast members – Jennifer Aniston, Courteney Cox, Lisa Kudrow, Matthew Perry, David Schwimmer and Matt le Blanc through a "Friends" film, the stars have repeatedly ruled out the chances.
However, Aniston might have now brought a glimmer of hope that the cast might be willing to reunite. The actress appeared during the Television Academy's An Evening Honouring James Burrows and spoke about her love for the sitcom.
Dressed in a simple pinstripe black suit, the 44-year-old appeared to be in a chatty mood and spoke to Burrows during the ceremony. While the focus remained on the director considering it was an event to honour his work, Aniston was asked the inevitable question of a "Friends" reunion.
"I'd honestly go back to it if we could, I would," E!Online quoted the actress as saying. Though she admitted that she had a wonderful time on the sets of the 10 season sitcom, she also doubted if the film was possible. "I don't think people would want to see us today," she added.
On the other hand, it was evident how Aniston believed that the show was one of the most vital parts of her life and she glowed every time the topic came up. Labelling it as "'one of the most energizing experiences to date," the "Marley and Me" actress also spoke about what a great audience the show has had, according to The Daily Mail.
Apart from her witty responses and lively demeanour, one thing that stood out during the ceremony was the solid bling on her finger. Engaged to actor Justin Theroux, the actress also showed off a svelte figure slamming pregnancy rumours that have been doing the rounds for weeks.