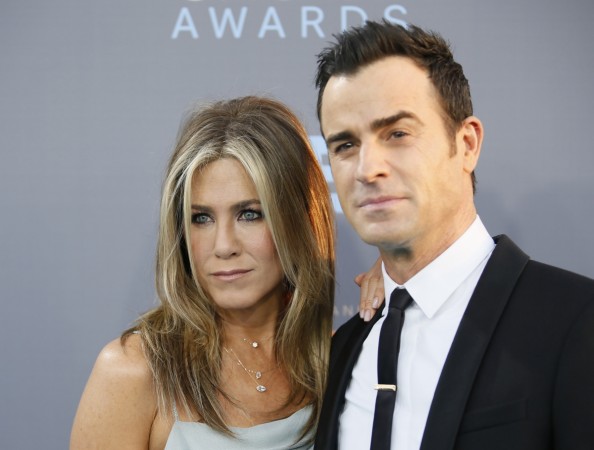 Jennifer Aniston and Justin Theroux are back in the news. The couple look happy and content when they pose together, and it also shows in their actions. But at the same time, there are divorce and cheating rumours hovering over their marriage. And if the latest reports are anything to go by, it looks like the "FRIENDS" actress is fed up of these Kristen Wiig cheating rumours and has hence decided to adopt a baby.
On Valentine's Day, Theroux got his fans going "oh-so-sweet" when he shared some rare photos of Aniston on Instagram. And simultaneously, the buzz about the couple having trouble went wild. Many reports suggested Jen was jealous of her 44-year-old husband's growing friendship with his "Zoolander 2" co-star Kristen Wiig. According to the report, the two actors became close while doing the movie, and Aniston isn't happy with the bonding the two share.
While Gossip Cop debunked all these reports, calling them "ridiculous," some new reports claim Jen is tired of these cheating rumours and so has decided to adopt a baby to avoid a divorce.
According to Ace Showbiz, Aniston and Theroux have visited a Mexican orphanage to take their adoption plans forward. Carmen Gonzalez, the head of the Casa Hogar Sion orphanage and school in Tijuana, Mexico, told the website the "We're the Millers" actress wants a daughter and the couple has already started adoption proceedings.
"They want this to happen as soon as possible. Jen has always longed for a daughter and Justin would love to have a son. It's been a difficult process but I'm very happy," said Gonzalez.
The report further said this is not the first time the couple is rumoured to be adopting a child. In August 2015, there was buzz that the actors had begun the paperwork as soon as they got officially married.
Now, only time will tell what the future holds for Jennifer Aniston and Justin Theroux's relationship.