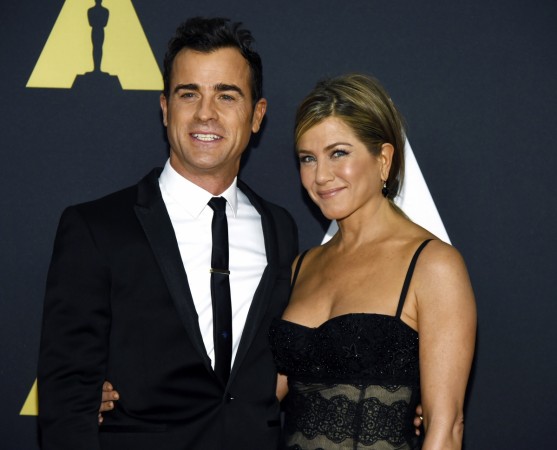 Jennifer Aniston and Justin Theroux are still happily engaged. Recently, rumours about the couple's breakup had gone viral on social media, but it looks like it was all a hoax.
On Friday, Radar Online published that Jennifer Aniston and Justin Theroux have put their wedding plans on hold because they may have called it quits, and have not been spotted together since 4 April.
The website reported that the 46-year-oldactress has been seen dining out with friends, including Toby Maguire and Courtney Cox sans Theroux. It further claimed that the couple did not officially breakup, but they lead separate lives.
But Gossip Cop rubbished all these rumours saying that both the stars are very busy with their respective schedules at present and that's the reason they haven't been spotted together of late.
An alleged source close to the couple told the website that all these rumours are "typical garbage", and that the 43-year-old "Mulholland Drive" star is currently filming for "Zoolander 2" in Rome, whereas the "Friends" star remains busy working in the States.
It also clarified that both Aniston and Theroux are close friends with Maguire and his wife, Jennifer Meyer. Hence, the rumours about cheating are false.
Justin and Jennifer have both spoken out in interviews about their relationships and have confessed how they are deeply in love with each other. In fact, Jennifer revealed that Justin is the best thing that ever happened to her.
The other thing that has come out quite clearly in all these reports is that Jennifer Aniston is not pregnant because she shows no sign of a baby bump yet. The wedding is still on and has not been put on hold as reported.
It looks like Jennifer Aniston is still happily engaged to long-time fiancé Justin Theroux.