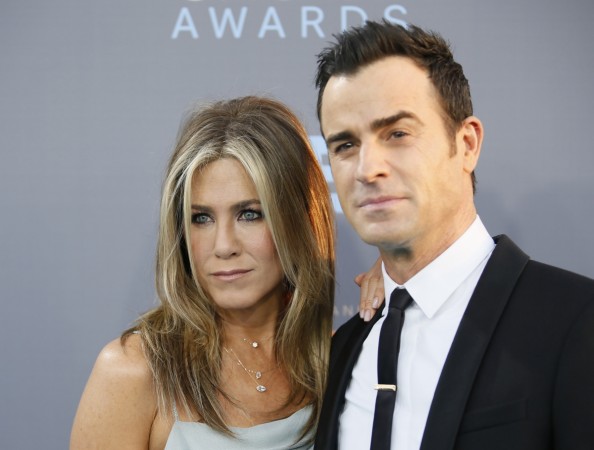 Jennifer Aniston and Justin Theroux's marriage has made it back to the headlines. The latest reports suggest the "Friends" star has been having nasty fights with "The Leftovers" actor about his views on love and relationships. Does she fear Theroux will leave her for another woman, just like Brad Pitt?
Aniston had admitted last year that watching "The Bachelor" was her guilty pleasure. And now, this show itself seems to have beome the cause of the latest fight between the couple.
According to Gossip Cop, National Enquirer has reported that after watching "The Bachelor" finale, which featured a confused Ben Higgins, who claimed to be in love with two women but chose one as his bride, Theroux and Aniston got into a nasty fight. Apparently, Theroux told Aniston he understands how a man can love two women at the same time, and this just reminded Aniston of her history with Brad Pitt and Angelina Jolie.
"Jen literally hit the roof. Appalled when Justin stupidly said he understood how that could happen, Jen attacked. A huge fight escalated and got really nasty," Enquirer quoted the source as saying.
And the fight went so bad that Theroux had to apparently pacify Aniston. "Justin said he couldn't believe they were fighting over a silly TV show — until furious Jen spit out the still-lingering angst from her failed marriage to Brad Pitt, who'd fallen in love with Angelina Jolie and dumped her. Finally getting it, Justin reassured Jen nonstop that he's no Ben or Brad, and could only have eyes for her," the source reportedly said.
Gossip Cop has debunked this rumour after one of Theroux's reps told them this story was just made up.
Similarly, Gossip Cop also busted another rumour which claimed Aniston hates Theroux's Instagram account. According to the website, Life & Style has quoted a source saying: "She's hurt and angry that out of the first 88 images he posted, only four featured her. Aniston is also angry because many of Theroux's followers are super-hot female fans. It's added tension to their marriage."
The website has rejected this report, saying there's "no truth to it."
So, it looks like Aniston and Theroux fans can just take these rumours with a pinch of salt.