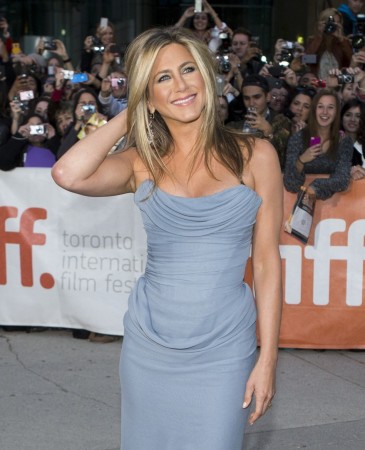 Celebrity couple, Jennifer Aniston and Justin Theroux who have been dogged by controversies around their relationship, is in news again for all the wrong reasons. A report has claimed that they decided not to exchange vows after a fight at their wedding venue.
The cover page of Life & Style magazine's latest issue reads: "Jen's humiliation dumped on her wedding day". Aniston apparently came to know some secrets of Theroux and called off the wedding.
However, the report doesn't hold much water, as the couple who got engaged in 2012 is said to have not fixed their wedding date yet. Reports suggested that they are planning a romantic wedding on the beach with Kevin Lee taking care of it.
"Jennifer and Justin are getting married right by the ocean, so it will be a beach meets California modern-chic sort of thing," Kevin told RadarOnline. "She is going to have it out of the country. Jennifer is a very, very sweet woman. She is very romantic and family-oriented."
It is also reported that the wedding may not take place in the US but somewhere in the countryside.
For those who don't know Lee, he is same person who planned Aniston and Brad Pitt's wedding. The couple separated in 2005 after Pitt allegedly got into a relationship with Angelina Jolie.
Aniston and Theroux are said to be going strong despite rumors of trouble in their relationship.
"It doesn't feel like a hardship, it doesn't feel difficult," Theroux told Details magazine about his love life. "It can be an annoyance, but it's not the end of the world. You have to centre on what its core thing is, which is that you met someone you fell in love with. It's hard to explain. I just find myself wondering, 'What's the big f**king deal?'"
Theroux recently brought a smile on his ladylove's face when he paid her a surprise visit when the former "Friend's" star was shooting with stylist Chris McMillan.
"Theroux actually showed up as a surprise to Jen. He turned up a couple of hours into the shoot. She was nearing the end of the shoot when he snuck in to say 'Hi'," a source told US Weekly.
Aniston was extremely happy to see Theroux. She hugged and kissed him as per the reports.