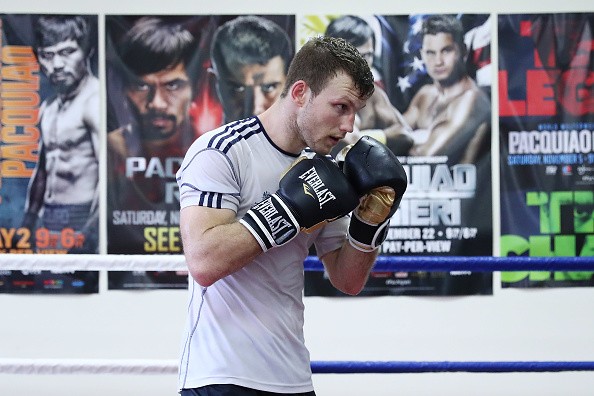 Undefeated Australian boxer Jeff Horn is set to face his biggest test inside a boxing ring this weekend when he goes up against the WBO welterweight champion Manny Pacquaio. The two are set to square off on July 2 at the Suncorp Stadium in Horn's hometown, Brisbane.
Last week Horn said he was confident he would end the Pacquaio era and become the new WBO welterweight champion. Now, the Australian's trainer has come out with a statement. This is set to be the biggest fight in Horn's career and whatever the outcome, it will set the tone for the rest of his career.
Also read: Jeff Horn confident he will end Manny Pacquiao era
The Australian might not have fought a lot of big names but he does know what it takes to knock people out as he has done so 11 times so far and his trainer Glenn Rushton said this fight is going to be better than any of Pacquiao's previous fights.
"I have no doubt this is going to be a much better fight than we've seen against Floyd Mayweather, even Jessie Vargas and Timothy Bradley," ABC quoted Rushton as saying.
"Jeff would fight Manny in a phone booth if he had to. We actually wanted the smallest ring we could get because we want Jeff attacking Manny all the time, putting him under the worst pressure he's ever faced."
There is no doubt that Horn is the underdog heading into this fight but the former schoolteacher seems really confident about his chances and is reportedly following a 10-point plan.
"It's a plan I've heard him speak to me about 1,000 times. It's perfectly worded. Reading over it is just like listening to him talk to me in the ring. What he's written down is spot on and I can get the job done if I follow it 100 per cent," Horn said.
"He only sent it to me on the weekend and just said to read it over a few times and make sure I've got it clarified, what I need to do."
As mentioned above, this is set to be the biggest fight of Horn's career so far and the Australian said that having the fight in Australia will be a massive boost to the sport in his country. He also mentioned that if he were to get the win it would change Australian boxing big time.