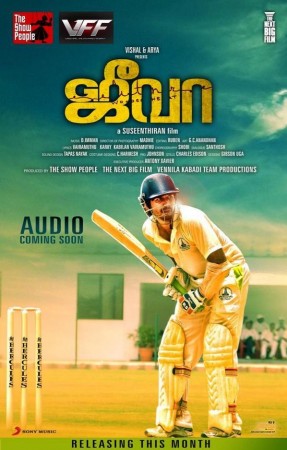 Vishnu Vishal's latest Tamil release "Jeeva" has received good reviews from the critics.
Directed by Suseenthiran, "Jeeva" is about the story of a cricketer played by Vishnu. Sri Divya plays the female lead, while Soori, Charlie, Lakshman Narayan, T. Siva, Madhusudhan Rao and Harish Uthaman are also part of the film's cast.
This is the second time that Vishnu has teamed up with Suseenthiran post the critically-acclaimed 2009-release "Vennila Kabadi Kuzhu."
Vishnu's last release "Mundasupatti" received good reviews and fared well at the box office. On the other hand, Suseenthiran is in form following the success of his last release "Pandiya Naadu." It remains to be seen if the actor-director will be able to strike gold once again with "Jeeva."
Plot: Jeeva (Vishnu) is a young cricketer who aspires to play for the Indian cricket team. Will he be able to fulfill his ambition with a prevailing caste politics in the selection of players? This forms the crux of the story. There is also a love track between Jeeva and Jenny (Sri Divya).
Critics have given positive feedback for "Jeeva" stating that Suseenthiran has come up with an impressive screenplay.
Vishnu has done a commendable job, while other actors fit the bill. The technical aspects, including cinematography, editing and background music have received good feedback from the critics.
Check below the review roundup of "Jeeva"
"'Jeeva' is sure to provide inspiration to many youngsters with similar cricket dreams and aspirations. On the whole, it is a nice entertaining film, and another feather on the director's cap," according to Sify.
Performances: "Roping Vishnu Vishal to this script is perfect, and being a real life cricketer, Vishnu has given it all to look authentic on the screen. He emotes well, and delivers the dialogues perfectly. The heroine, Sri Divya is cute as a school goer, beautiful as a college student, and looks matured when her role wants her to be," according to Indiaglitz.
"T. Siva and Charlie are flawless in their given role, and Soori replicates his magic once again to induce few laughs without swaying away from the storyline," the website stated.
Technical Aspects: "Madhie's camera captures the sequences beautifully, as the noticeable flares add a special feel to the songs. Editing by Ruben is crisp with a running time of just over 2 hours. Imman's songs are flushed into the narrative, but his re-recording for the intense portions is truly hair-raising," said Siddarth Srinivas of Cinemalead.
"There have been a lot of sports related movies, with a lot of them being made on cricket. However, director Suseenthiran has taken a very live and burning aspect of the game and brought it to light, through his story. The game of cricket being plagued by politics is not something new, but it has been bravely brought to the fore in Jeeva," stated Galatta website.
Verdict: Worth Watching