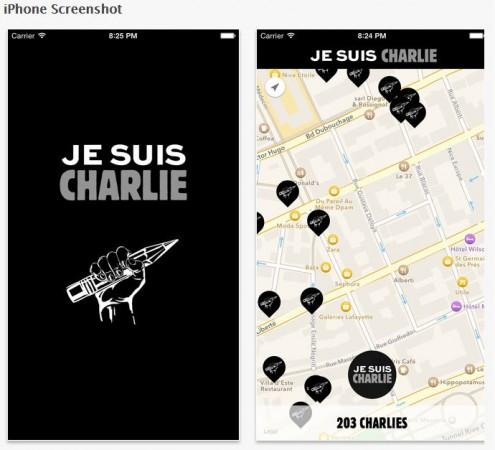 A French company, Nice-Matin, in their bid to solidarity to the last week's ghastly act on Paris-based Cartoon publishing house Charlie Hebdo has launched an Apple iPhone app.
One interesting fact is that this tentatively titled 'Je suis CHARLIE' app got approved in one hour thanks to Apple Inc's pro-active measure to show their unanimity in the freedom of speech, which Charlie Hebdo stood for.
Usually for an app to get approval from Apple, it takes close to two weeks. Nice-Matin, in order to fast-track the process, directly wrote a letter to Tim Cook. Within 10 minutes, the French firm got a reply from one of the assistants of the Apple Inc boss with an assurance that 'Je suis CHARLIE' will be approved in one hour provided they become associated with a press title of a certain stature, reported iPhon.fr.
After releasing the 'Je suis CHARLIE' into iTunes app store in record time, Tim Cook took to Twitter to show his solidarity to the 'Paris Unity March' for Charlie Hedbo victims.
Marching in spirit with my friends in France in the march against terror at the #UnityRally. An attack on one is an attack on all.

— Tim Cook (@tim_cook) January 11, 2015
Je suis CHARLIE app has also been made available on Google Play Store as well.
Purpose of 'Je suis CHARLIE' app:
Once installed in your iPhone, it will show the locations of all the supporters who are using the app. It also lets people to broadcast 'I am Charlie' message and state their opinions on the social media.
"Because 'Je suis Charlie' has become the symbol of freedom of speech whatever your beliefs, your country and your opinions, download the "I am Charlie" app and simply state where you stand on today's world map. We will show we stand united together across the world as "We are all CHARLIE," said the company.
'Je suis CHARLIE' compatibility details:
| | | |
| --- | --- | --- |
| Platform | Apple devices | Android devices |
| OS version compatible | Requires iOS 7.0 or later(Compatible with iPhone, iPad, and iPod touch. This app is optimized for iPhone 5, iPhone 6, and iPhone 6 Plus.)languages- English and French | v4.0 and above |
| Size | 4.8 MB | 2.7MB |
| Current App Version | v1.0.1 | v1.0 |
| Last updated | 12 January 2015 | 13 January 2015 |
| Download link | HERE | HERE |