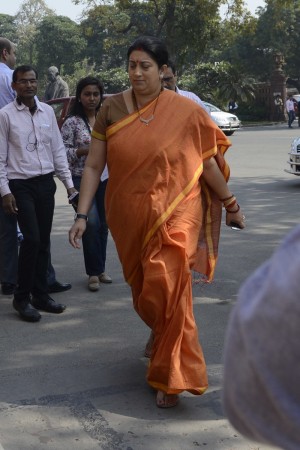 Rajya Sabha member and Janata Dal (United) leader Ali Anwar has stirred the proverbial hornet's nest with what can only be construed as a sexist comment on newly-appointed Textile Minister Smriti Zubin Irani, who was recently removed from the post of human resource development (HRD) minister.
According to an ABP News report, the JD(U) leader said: "Good that Irani has been elected as textile minister; it will help her cover body [sic]." The statement is apparently a jab at Irani's past. However, the report also quoted Anwar as saying he "was referring to the bodies of the people in general," a remark the report said he made after realising he had crossed the line.
Interestingly, actor-turned-politician Smriti was most noted for playing a demure housewife on the long-running — and long-winding and long-suffering, according to some — TV soap "Kyunki... Saas Bhi Kabhi Bahu Thi," far from the skimpily-clad women who Anwar might have thought needed to be clothed.
Meanwhile, Prakash Javadekar, who took over as the HRD minister, was quoted as saying by a Zee News report in reaction to Anwar's remark: "This is the worse comment I had ever heard of. [sic]"
This is not the first time a JD(U) leader has spoken about bodies: Party veteran Sharad Yadav, also a Rajya Sabha member, had last year been in the eye of a storm after commenting on South Indian women and their bodies.
During a debate on the Insurance Bill in the House in March last year, Yadav had started to talk of the dark skins of South Indians, according to an Indian Express report. When DMK member Kanimozhi objected it, he had gone on to say: "Your god is dark like Ravi Shankar Prasad (present in the House), but your matrimonial ads insist on white-skinned brides."
He had also said: "The women of the south are dark but they are... their bodies..."