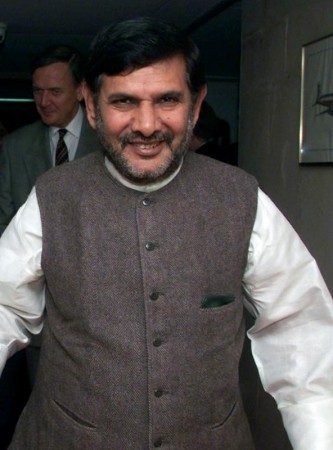 Reacting strongly to the controversial remarks made by its party men, Janata Dal (United) issued showcause notice to two of its ministers from Bihar on Sunday.
On Thursday, Rural Works and Panchayati Raj Minister Bhim Singh had remarked, "Sena aur police me log marne hi jate hain (People join the army and the police force only to die)."
The remark made by the minister of Bihar government was criticised by all political parties for being insensitive to the sacrifice made by Indian soldiers. Chief Minister Nitish Kumar had publicly apologised for the remark and so did Bhim Singh.
But just days later, another minister belonging to Nitish government created a furore when he claimed that Pakistan Army was not responsible for killing five Indian soldiers on 6 August.
"I don't believe that Pakistan is responsible for the incident (killing of five Indian soldiers by Pakistani army on the LoC in Poonch district) on Tuesday," Narendra Singh told PTI on Saturday, causing further embarrassment for Nitish-led JD(U) government.
"Pakistan is our younger brother and a neighbour," he added.
Four out of the five soldiers who died during an ambush at an Indian army patrol belonged to the 21st Bihar Regiment.
On Sunday, both the ministers received a showcause notice from JDU President Sharad Yadav.
"I warn everyone in the party that no one is allowed to comment on sensitive national issues. We have sent a notice to Bhim Singh and Narendra Singh. They have to reply in 7 days. Will take further action if needed," Yadav told ANI news.
The notice, addressed to both the ministers, termed their statements as 'against the policy, ethics and norms of the party'.
As per PTI reports, in the letter addressed to Narendra Singh, Yadav said, "I had personally requested you to issue the rebuttal and contradiction to your statement, but it was apparently not done."
Meanwhile, Nitish Kumar on Sunday expressed regret over Narendra Singh's remark of giving a clean chit to Pakistan troops for breaching ceasefire along the Line of Control in Jammu and Kashmir.