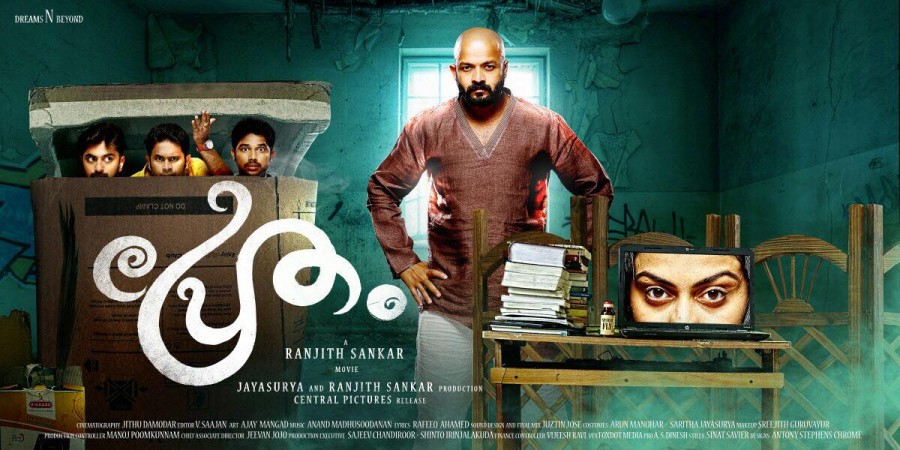 The title song "Oruthikk Pinnil" of director Ranjith Sankar and Jayasurya's upcoming movie "Pretham" was released on the YouTube page of Sathyam Audios on July 29. The song, featuring Aju Varghese, Sharafudheen and Govind Padmasoorya, has been sung by playback singer and director Vineeth Sreenivasan.
Interestingly, Vineeth has sung in both male and female voice for the first time. "My song from Pretham.. A small experiment.. Have tried both male and female vocals because the situation in the film demanded it.. Thanks to Anand, Ranjith ettan, Jayettan and lyricist Rafeeq Ahmed for this [sic]," Vineeth wrote on his Facebook page while sharing the making video of the song.
Jayasurya, Aju, Sharafudheen, Ranjith and music composer Anand Madhusoodanan are also seen in the making video, in which the actors are also making funny comments and giving suggestions to Vineeth. Towards the end of the three-minute video, Jayasurya is also heard praising the singer for singing the fast number free of charge. Rafeeq Ahammed has penned the lyrics of the title song.
In the upcoming horror comedy movie, Jayasurya plays the role of a mentalist John Don Bosco, who can read the minds of people. Sharafudheen will be seen as a troller named Priyalal, while Aju and Govind plays as Benny Kokkan and Shibu Majeed, respectively. "Pretham" is production venture of Jayasurya and Ranjith under their home banner of Dreams N Beyond. The movie is scheduled to hit the screens on Aug. 12 locking horns with Jayasurya action thriller "Inspector Dawood Dawood Ibrahim."
Ranjith Sankar
Pretham title song. Special thanks and hats off to Vineeth Sreenivasan for this truly outstanding effort and the spirit to attempt this. Thank you Anand Madhusoodanan and Rafeeq Ahamed.. This one is my personal favourite for a while:)) Enjoy watching!
Pearle Maaney
Pretham Title song! ❤️ love this track!
Paisa medikkaathe padiya Vineeth Sreenivasan - Official Ki Jai!
Listen to the making video of "Oruthikku Pinnil" here: