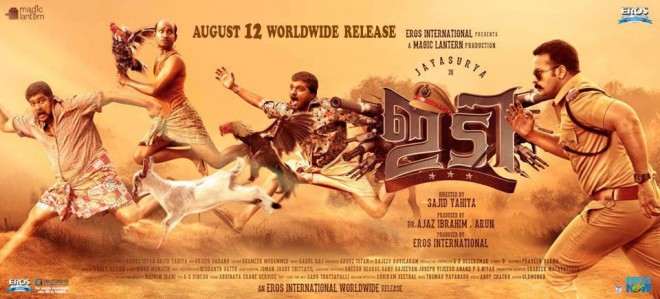 Jayasurya's action thriller "Inspector Dawood Ibrahim" aka "IDI" was released worldwide on Friday, Aug. 12, locking horns with the young star's horror comedy entertainer, "Pretham." The Sajid Yahiya cop thriller bagged a 'U' certificate from the regional censor board on Wednesday.
In "IDI," Jayasurya plays the role of a sub-inspector, who worked hard to become a cop. How he faces the pressures and carries out the duties assigned to him after realising the struggles of a police officer is narrated in the action thriller, which is also said to have comedy elements in it.
Sshivada Nair, who was cast opposite the young star in the superhit movie, "Su Su Sudhi Vathmeekam," has paired up with Jayasurya again in "IDI." The theatrical trailer of the movie showed her performing stunts. The movie is the production venture of EROS International in association with Magic Lantern, and also stars Joju George and Sunil Sukhada in pivotal roles.
Check out what audience have to say about "IDI" here:
Aadhi Roy
IDI
First of all we the movie is an excellent piece of work by SAJID YAHIYA :-)screenila kanditullu enkilum Pulli puliyaanu ;-)
The movie is a paka entertainer with jayettan leading a mass cop role :-)
Yeah you will get entertained for sure ;-) but the second half didn't make up with the first half !!!!...yet the movie is an entertainer...JAYETTAN MASS ;-)
Hari Jayan
" IDI "
Huge expectations that ended in
Watchable /May be watchable, it depends Enjoy
Vijay Pritvi Asf
Marubhoomiyile Aana:
Feeling an Un Comfortable Script and Direction.Should be taken in a more better way and scope to be a Mega hit.
Humour didn't have more importance in the script,but there are lot of didn't get upto your expectation level.Humour has more scope but director failed in it.Average hit would be the status.
Starting was slow,after ‪#‎BijuMenon‬ entry it gives an energy.Second half was better.
2.5/5
Malayalam Review
‪#‎MarubhoomiyileAana‬. Below Average Entertainer. Poor Script & Screenplay. Except Some Comedies Another BlwAvg Product From VKP. 2/5
Kannan Bhasi
Saw " IDI" movie...one real good movie with many strong characters and performances... loved it!! It will touch ur heart for sure!! Awesome performance from jayetten !! Please do watch this movie at theatres!!
Gokul G Nair
Oru Kalippan Police Oru Comedy Areayil Ethipettal Eganeyirikkum :-D ‪#‎Idi‬ 1st Half Finished Nidhun Chand Oru Kalippan Police Oru Comedy Areayil Ethipettal Eganeyirikkum :-D ‪#‎Idi‬ 1st Half Finished