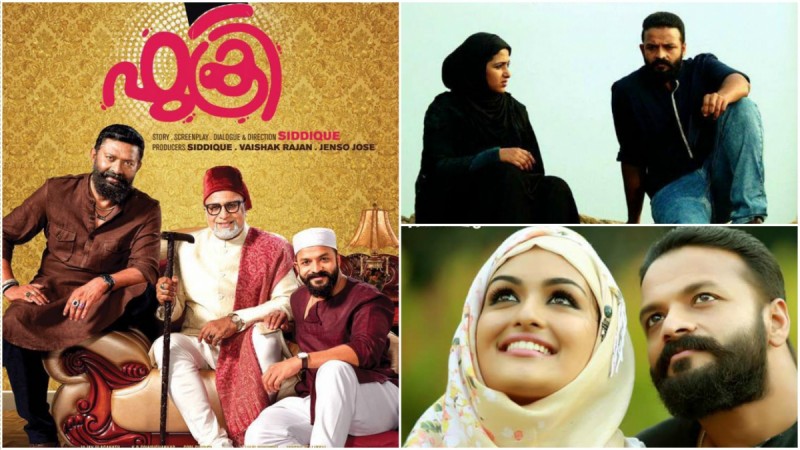 | | |
| --- | --- |
| Movie Name | Fukri |
| Director | Siddique |
| Lead actor | Jayasurya |
| Heroines | Prayaga Martin and Anu Sithara |
| Other cast | Siddique, Lal, Soubin Shahir, Krishna Prabha, Bhagath Manuel, Balu Varghese, John Kaippallil, KPAC Lalitha, Thesni Khan, Sreelatha Namboothiri |
| Written by | Siddique |
| Editor | KR Gourishankar |
| Cinematography | Vijay Ulaganath |
| Producers | SiddiqueVaishak RajanJenso Jose |
| Running time | 2 hours 35 minutes |
Check: Reasons to watch Fukri
Malayalam movie Fukri, starring Jayasurya in the lead role, hit screens in Kerala, Chennai, Coimbatore, Bengaluru, New Delhi, Mumbai, Pune, Gujarat, and Nasik on Friday, February 3. The Siddique directorial was earlier scheduled to be released during the Christmas season in 2016, but was postponed due to the theatre strike in Kerala.
The teaser, trailer and songs of Fukri have opened to positive response and the audience expect it to be an engaging comedy entertainer. Jayasurya plays Lucky, an engineering drop-out and a fraudster. The movie marks the maiden association of the actor with veteran filmmaker Siddique, who has helmed many hit comedy movies in Malayalam.
The main highlight of Fukri is its ensemble cast, including Siddique, Lal, Prayaga Martin, Anu Sithara, KPAC Lalitha, Soubin Shahir, Krishna Praba, Bhagath Manuel, John Kaippallil and Balu Varghese, who play pivotal roles in it.
Audience review summary
Jayasurya plays as Luqman Ali Fukri aka Lucky, who is a fraudster.
The film is said to have many laugh out loud moments for the audience.
Majority of the netizens comment that the first half of Fukri to be an unlimited fun ride, though few have called it to be an average film with a big twist in the plot.
After the second half, many of the movie-goers have given negative reviews for the movie.
Check out what audience have to say about Jayasurya's Fukri movie:
BMS Users
A great comedy entertainer... enjoyed a lot... My family members ,especially my wife n kids enjoyed the comedy sequence and they laughed to the core..
It is good family entertainer...itz look good for me...i vl give 3.5/5 ...i really enjoyed a lot...a good comedy film from the team...jayettan make the film more beautyfull...
Humour scenes are gud but expect a good entertianer but really disappointed from this Gud team...Jayasurya as luccky is gud but sometimes character would be irritated the audience...Over all diapointed from my fav team.
Aswin
Show tym!! #Fukri first half fully loaded with fun!
Ajay AjOz
Watching fukri ........padam heavy comedy Ann ttaa
Jithin Jose
fukri first half over...... jayettan polichadakkunnu..waiting sec half
moovipedia
#fukri Don't expect a comedy bonanza! Average 1st half below average second half! Typical story ! Overall an average flick ! 2.5/5
Malayalam Review
#Fukri Siddique's Worst Movie Till Date Below Average Story & Boring Screenplay Except Some Comedies Completely Disappointed 1.5/5 Jayasuriya Perfo Heroines ,Prayaga Anyway Another 1 Week Movie For Jayettan
Robinson
Unlimited Fun ride
Dhibin Zenzkaroz
unlimited fun..
Bibib KS
1st half pwoli
Suraj Kumar
Fukirii
Frst day fs show....
JAYAETTAN mass and comedy....#
Junaid
In For #Fukri - 2017 - 3rd Film 3rd FDFS