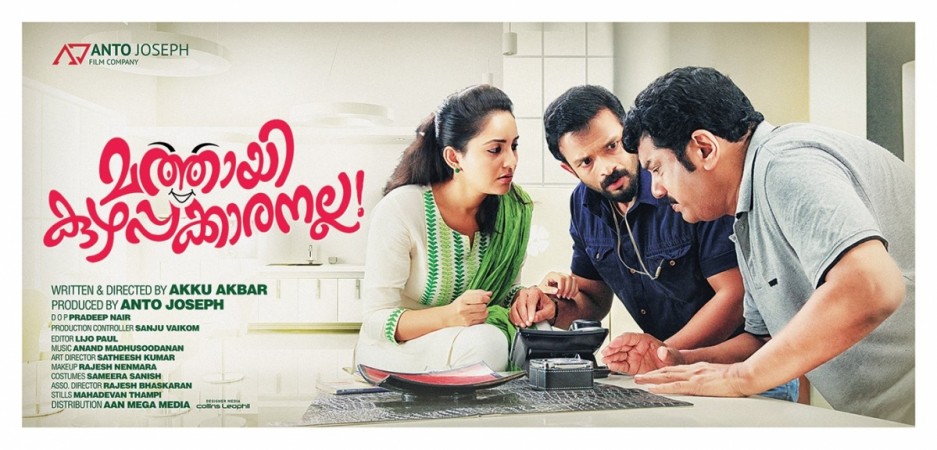 The release date of upcoming Malayalam film "Mathai Kuzhappakkaranalla" is announced. The film starring Jayasurya and Bhama will hit theatres on 10 October. The film is touted as a family entertainer and is directed by Akku Akbar.
Jayasurya and Bhama have shared the news of the film's release through their Facebook page. For actress Bhama, 19 October is more special as her other film "100 Degree Celsius" will also hit the theatres on the same day. It is a women-centric suspense thriller.
The film was initially titled as "Mathayiyude Suvisheshangal" but was later changed. The storyline revolves around Mathai, who is always ready to help others. He interferes in the life of others necessarily and unnecessarily with a good intention, but always gets into trouble.
This time he gets involved in the life of the character played by Mukesh and his family. What follows forms the crux of the storyline. The film also deals with various problems that can happen in one's family life.
In the film, Bhama will be seen as a smart, bold character, who works as an assistant to a leading lawyer and is Mathai's fiancée. Sreejith Ravi is also spotted in a significant comic role after "Punyalan Agarbhathis" (2013).
The film also has Mukesh, Lakshmi Gopalaswami, Aju Varghese, Thezni Khan, Jayaraj Warrier and Sasi Kallinga in pivotal roles.
Akku Akbar is known for bringing out family-based films like "Sadanandante Samayam", "Veruthe Oru Bharya" and "Bharya Athra Pora". However, his last film "Ulsaha Committee" starring Jayaram failed to make a mark at the box office.
The cinematography of the film is done by Pradeep Nair and is edited by Lijo Paul. The music is composed by Anand Madhusoodanan.
"Mathai Kuzhappakkaranalla" is produced by Anto Joseph under the banner of Anto Joseph Film Company and is distributed by Ann Mega Media.