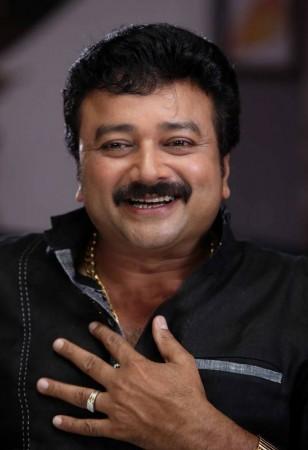 Actor Jayaram has enticed his audience with many of his performances. This time, the actor will don a role named Mammootty in his upcoming film, "Mylanchi Monjulla Veedu"
The film is directed by debutant Benny K Joseph and is touted as family entertainer. The script of "Mylanchi Monjulla Veedu" is done by hit-makers Uday Krishna–Siby K Thomas.
The duo is known for bringing out many comedy films like "Udayapuram Sulthaan", "Dhosth", "CID Moosa", "Pulival Kalyanam", "Runway", "Kochi Rajavu", "Twenty Twenty", "Pokkiri Raja", "Christian Brothers", "Mayamohini", "Kammath & Kammath" and "Sringaravelan". The duo had earlier worked with Jayaram for films like "Malayalimamanu Vanakkam" (2002) and "Twenty Twenty" (2008).
"Mylanchi Monjulla Veedu' will also see Jayaram and Asif Ali sharing the screen space. Jayaram and Asif have earlier appeared in Sathyan Anthikkad's "Kadha Thudarunnu" (2010), but did not share screen-space in the film.
The film was inspired by an American biographical drama film "The Pursuit of Happiness" and had Mamta Mohandas, Mamukkoya, KPAC Lalitha and Innocent in the lead roles. For Asif, it was a turning point in his career.
Mean while, Jayaram is currently shooting for his upcoming flick "Njangalude Veetile Adithikal" directed by Siby Malayil. It is said to be a family drama with Priyamani playing the central role.
It is scripted by Gireesh Kumar who is known for his scripts for films like "Amrutham", "Veruthe Oru Bharya", "Gaddama", "Swapna Sanchari", "Bharya Athra Pora" and "Pattam Pole". He is joining Malayil after a gap of nine years.
The film also has the star cast of Narain, Innocent, Lena and Kalabhavan Shajon. The film is produced by Milan Jaleel under the banner of Galaxy films.
Meanwhile, Asif Ali is busy shooting his next film "Driver on Duty"in which he plays the lone male constable in a woman police station.
"Mylanchi Monjulla Veedu" will be shot in the locations including Ottapalam in Palakkad and is also touted as an experimental film. The film is said to have more than 50 actors as said to be part of the film. The film will also have the star cast of veteran actor Madhu, Saikumar and Baburaj in important roles.