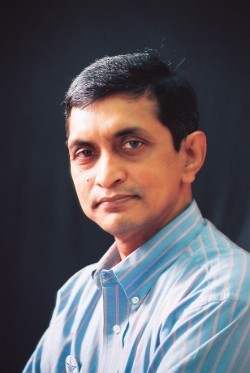 Jayaprakash Narayan was the second rank holder in the Indian Administrative Service (IAS) exam of the 1980 batch.
After a 16-year active and fruitful career, he resigned from the top job and is now heading Lok Satta Party to reform corruption-infested Indian politics and administrative governance in India. His aim is to bring his vision into a reality through the political party.
As a bureaucrat, he strived to bring electoral reforms, who is also a columnist and hosted a programme called "Pratidhvani" on ETV, spreading light on many contemporary problems of people.
Presently, he is the National Coordinator of the party, which has considerable presence in several states inlcuding Andhra Pradesh, Karnataka, Maharashtra, Uttar Pradesh, Delhi and Tamil Nadu.
Lok Satta Party is now said to be heading to forge an alliance with TDP-BJP-Jana Sena in Andhra Pradesh in the run-up to the general and state assembly elections. It intends to have such alliances in other states also.
In a way, Jayaprakash is the predecessor of Arvind Kejriwal, the Aam Aadmi Party (AAP) founder, who launched a crusade against corrupt political system in India.
Jayaprakash Narayan has got several awards like the "Rotary Manav Seva Award 2002" for his crusade against corruption and public service.
Presently, Jayaprakash Narayan represents Hyderabad's Kukatpally constituency in Andhra Pradesh Assembly. The bureaucrat-turned-politician says he has done Rs 900 crore worth development works in his constituency and challenges that no other politician among the 293 MLAs in the state has executed such a massive development as he did.
Jayaprakash Narayan's party has already launched its campaign called, "Eela Bheri" (Eela Bheri means whistle sound), in Hyderabad on 16 March 2014. "Whistle" is the party's symbol.
Here is a timeline of Jayaprakash Narayan, the clean image politician.
1956: Jayaprakash Narayan was born on 14 January 1956 in Maharashtra's Naghbir. When he was three years old, he, along with his parents moved to Godavarru village, near Vijayawada in Andhra Pradesh. At the age of 7, he went to another village Vemanda, near Indupally in Krishna district in AP.
1969: He joined Andhra Layola College in 1969 for his intermediate education. He then did his medical degree from Guntur Medical College.
1980: After clearing IAS exams as the second rank holder, he joined the administrative service and brought considerable progress in agriculture, irrigation and youth rehabilitation projects in Andhra Pradesh. His IAS career spanned over 16 years.
1988: To curb corruption in political circles including elected members and civil servants, Jayaprakash proposed "Anti-Corruption Bill" to amend the Andhra Pradesh States's Prevention of Corruption Act, 1988.
1996: Jayaprakash Narayan started a non-governmental organisation (NGO) Lok Satta Movement to bring democratic reforms in the country.
2006: Jayaprakash Narayan turned his Lok Satta Movement into Lok Satta Party.
2008: In the State Assembly by-election, for the first time, Lok Satta Party secured second place in two (Khiratabad and Terlam) of the four places it contested.
2010: Representing Lok Satta Party, he opposed populist schemes in 2010 and 2011 in Andhra pradesh budgets. He also stressed the need for gas grid and industrial development in the state.
2014: On 11 February 2014, Jayaprakash advocated that AP's backward districts in Rayalaseema and three other districts of coastal Andhra region be given a special category status by the Union government to develop them, reports The Times of India.