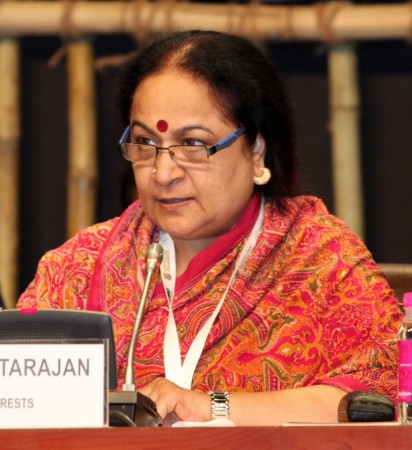 Addressing a press conference in Chennai, former Union Environment Minister Jayanthi Natarajan announced her resignation from Congress on Friday, saying she was very upset with the way she was treated by the party leaders despite her dedication and hard work for the last 30 years.
She said she is pained by the decision she is taking today as four generations of her "family has been associated with Indian National Congress since the inception" and "... I come from a family that has Congress blood flowing in our veins. I have had a 30-year association with Congress. Congress is no longer the Congress that I joined with such great hopes and ideals."
Announcing her decision to quit the party after serving for 30 years, Natarajan also spoke about the reasons that forced her to finally depart from Congress that has given her the opportunity to serve the nation.
"I have served without a blemish since 1986, both when Congress was in power and outside power. I have been a spokesperson of the Congress for 10 years without a single blemish on my career. I am extremely grateful to the party and the leadership for the opportunities given to me to serve the nation. I did this with tremendous dedication," she said at the press conference.
Natarajan cited some points from the letter she wrote to Congress president Sonia Gandhi, published exclusively by The Hindu.
She said she received several instructions from party vice president Rahul Gandhi's office, which included requests and presentations by NGOs who complained about environmental deterioration due to some large projects. Following this, she was asked to make sure these projects do not cause tremendous havoc to the environment.
She did accordingly, acting upon their instructions, despite opposition from other cabinet members and faced their wrath and anger. However, later during a FICCI meeting of industrialists, she heard Rahul making "uncomplimentary references to delays in environmental clearances, and the adverse effects upon the economy".
This, she said, was a great setback for her as it was Rahul, his office and Sonia who did not want these big projects to be passed.
Citing the second reason she said that in November 2013, she was asked by Ajay Maken to launch an attack on Narendra Modi, who was then the BJP PM candidate. However, she denied saying that the party spokesperson should do it as after becoming the minister she was instructed not to address press meetings.
When he said that she has been asked to take the forefront in attacking Modi, Natarajan said she suggested the party should bring out the policies and governance and not the Snoopgate case to attack Modi.
She referred to the Snoopgate controversy – where Modi allegedly directed Amit Shah to carry out illegal surveillance of a young woman in 2009. Shah had reportedly directed the Gujarat police to track the woman and her family's movements and tap phone calls.
"I also feel that I have been pressurised and used to lead issues which I considered wrong. An instance: While I was still a Minister, an important matter which has caused me great agitation is the fact that I was called upon to attack the present Prime Minister Shri Narendra Modi on what is referred to in the media as 'Snoopgate'" she had said in the letter.
She cited her third reason as her resignation as Environment and Forests Minister on 20 December 2013. Natarajan said former Prime Minister Manmohan Singh asked her to resign that day saying Sonia has asked her to dedicate her time to party work instead.
"To recall the sequence of events, I would like to record, that I was carrying out my duties as Minister of State (I/C) Environment and Forests in the routine course, when suddenly that day on December 20, 2013, the then PM, Dr. Manmohan Singh summoned me to his office... He said 'Jayanthi, I have been told by Congress President, that your services are required for party work.'... She wants you to resign.' Unsuspecting, and trusting you totally, I did not utter a single word, but smiled at him and said I would comply with the wishes of the Congress President," the letter read.
"I was so guile free, that I honestly believed that you wanted me to work for the party, and that it was an honour to be so chosen. I did not for a second at that time, imagine the consequences of resigning just 100 days before the elections were due, and what would lie in store for me in the future. I trusted you with my life, and even more importantly, with my reputation, my career and the legacy of my family," she added in the letter.
Natarajan further said that soon after talking to Sonia over the telephone regarding her resignation she resigned, but to her surprise the news of her resignation went out to the media and Rahul's office allegedly started spreading lies about the same.
"The next day my resignation was headlines in the media, and all the initial reports correctly reported that I had stepped down for party work. By the afternoon, to my shock, I received information that persons from the office of Shri Rahul Gandhi were calling the media and planting stories that my resignation was NOT for party work," the letter read.
"Thereafter, the media was flooded with negative stories about me. The same day, namely, the day after I resigned, Shri Rahul Gandhi addressed a FICCI meeting of industrialists, where he made uncomplimentary references to delays in environmental clearances, and the adverse effects upon the economy."
She tried approaching Rahul but in vain, and instead received another telephone call from Maken in the next 15 days informing that a new list of spokesperson are coming the next day and she is being removed from the panel.
She said this again came as a shock to her as both Sonia and Singh had always appreciated her for her hard work and dedication but was removed from party positions one after the other without citing valid reason.
Natarajan then clarified that whatever issues she has, is with the national high command in Delhi and has no issues with the state party at all.