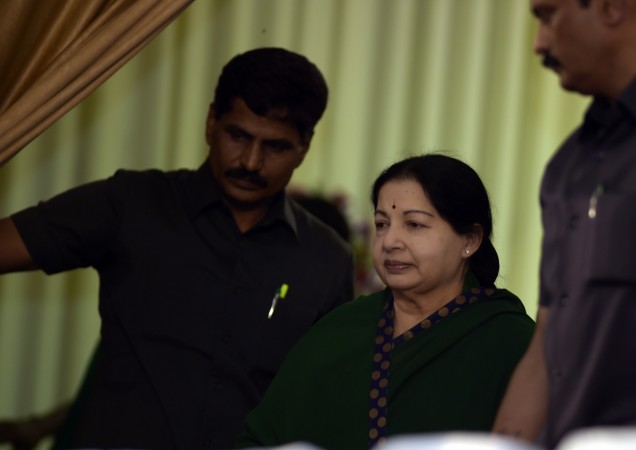 Tamil Nadu Chief Minister and All India Anna Dravida Munnetra Kazhagam (AIADMK) supremo Jayalalithaa's health is improving, according to Apollo Hospitals, where she is undergoing treatment for infection. But it appears like she won't be discharged from the hospital anytime soon – that's what the bulletins from the hospital hints at.
Jayalalithaa, 68, was admitted to Apollo Hospitals in Chennai on September 22 for fever and dehydration, and is still undergoing treatment. The hospital authorities have been saying that she is recovering well since she was hospitalised, and this statement stays the same even after two weeks, causing anxiety among her supporters and the public alike.
It has now appeared that the CM, who is fondly called "Amma" by her fans, is being treated by three doctors from AIIMS and Dr Richard Beale from London.
Here we give you the timeline of Jayalalithaa's health for the last two weeks.
September 22: Jayalalithaa was admitted to Apollo Hospitals, Chennai with fever and dehydration. The hospital authorities said that she was stable, but didn't give further details.
September 23: A bulleting from the hospital said that the CM was well and taking normal diet.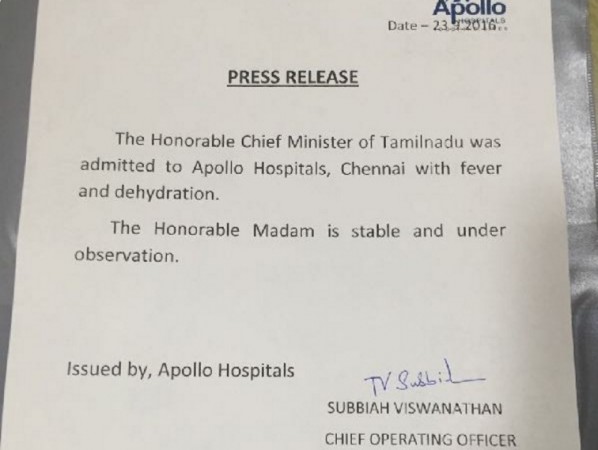 September 23: Prime Minister Narendra Modi wrote a letter to Jayalalithaa wishing her a speedy recovery. He also sent a flower bouquet.
September 25: "There have been rumours and conjectures circulated falsely in the social media about Honourable Chief Minister's health condition, stating that she will be taken abroad for treatment. These are totally false and baseless," Apollo Hospitals said in a statement. It added that she would be discharged from the hospital in a few days' time.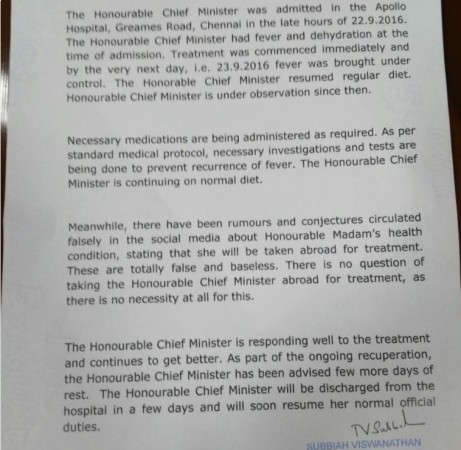 September 27: AIADMK claimed in a tweet that the CM resumed her official duties from the hospital by convening a meeting between 4.30 pm and 5.30 pm at Apollo Hospitals on the interim directions issued by the Supreme Court on Cauvery River water issue with Karnataka.
September 29: Apollo Hospitals said in a statement that Amma was responding well to the treatment but would stay in the hospital for treatment.
September 30: Dravida Munnetra Kazhagam (DMK) president Karunanidhi demanded that the state government give an official statement on Jayalalithaa's health along with her photographs to clear all rumours around her health
September 30: AIADMK tweeted that Chennai Police IT Wing had filed an FIR against a woman in connection with spreading of false rumours about Amma's health based on a complaint from the party.
October 1: AIADMK said that Jayalalithaa was recovering well and could be discharged soon, but refused to release her photographs as demanded by M Karunanidhi.
October 1: Tamil Nadu Governor C Vidyasagar Rao visted Jayalalithaa at Apollo Hospitals.
October 2: Apollo Hospitals said in a statement that Dr Richard Beale, who was flown in from London on September 30 to treat the CM, had a detailed discussion with the expert group of doctors treating Amma. They decided to make her continue the same medication to for infection she had been taking. They added that she was responding well to the treatment.
October 3: A bulletin from the hospital said that Jayalalithaa's health had improved, but she would stay in the hospital for further treatment.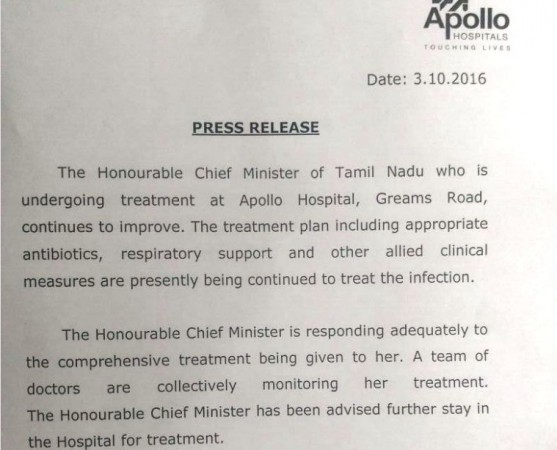 October 4: The hospital said in a statement that Amma was under close observation by the team of doctors and had been advised to further stay at the hospital. Meanwhile, the Madras High Court directed the state government pleader to submit a report on the health of the CM after consulting the government after social activist KR Ramasamy filed a public interest litigation (PIL) seeking to know her health condition.
October 5: DMK, the opposition party in the legislative assembly, expressed displeasure over failure of the state government to provide details of Amma's health condition despite their request.
October 6: It's reported that the CM's health was stable and monitored by a team of three doctors from AIIMS and a doctor from London.
Meanwhile, the Madras High Court on Thursday dismissed a PIL seeking detailed report of the CM's health condition citing the growing curiosity of the public. The bench headed by Chief Justice Sanjay Kishan Kaul said that regular health bulletins from the hospital were enough.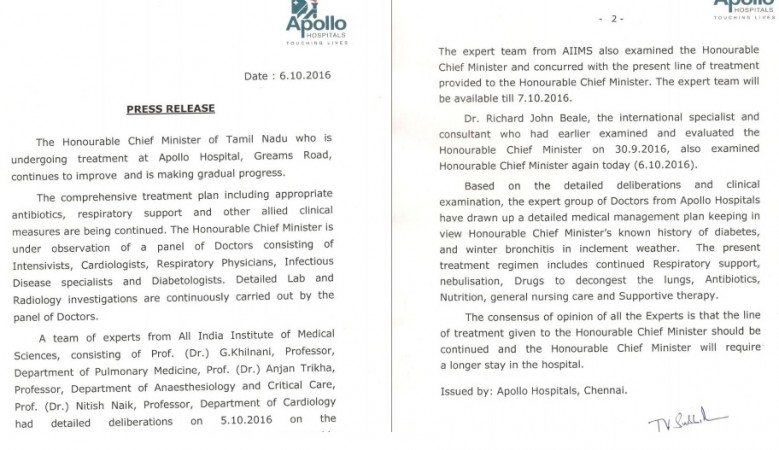 October 6: Doctors had drawn up a detailed medical management plan keeping in view of the CM's history of diabetes and winter bronchitis in inclement weather. It said that treatment like respiratory support, nebulisation, drugs to decongest the lungs, antibiotics, nutrition etc will be continued, and that she will have to stay longer in the hospital.