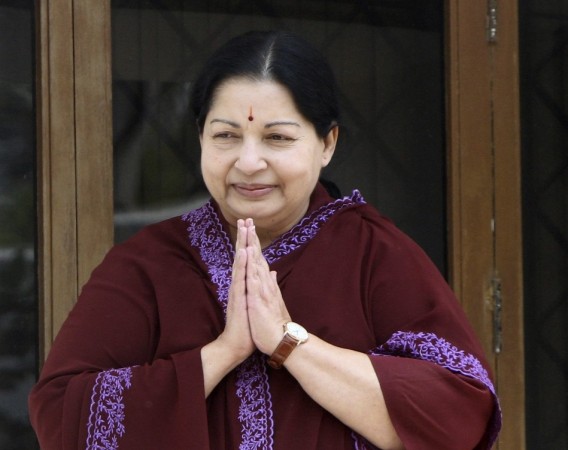 Tamil Nadu Chief Minister and All India Anna Dravida Munnetra Kazhagam (AIADMK) supremo Jayalalithaa's is responding well to treatment, but is still in respiratory support to treat infection. She has been undergoing treatment at Apollo Hospitals in Chennai for the last 10 days.
Jayalalithaa, 68, was admitted to the hospitals on September 22 for fever and dehydration. "The treatment plan, including appropriate antibiotics, respiratory support and other allied clinical measures are presently being continued to treat the infection," said a statement released by Apollo Hospitals on Monday.
"A team of doctors is monitoring her health and she is responding well to the comprehensive treatment," it added. The CM, who is fondly called "Amma" by her supporters, has been advised to stay in the hospital for treatment.
The statement from Apollo Hospitals came after politician Thol Thirumavalavan said that Jayalalithaa was recovering well.
Dr Richard Beale was flown in from London on September 30 to treat the CM. The hospital authorities said that Dr Richard had a detailed discussion with the expert group of doctors treating her and concurred with the present line of management and decided to continue the current treatment plan.
It was earlier rumoured that Amma was even put on the ventilator and plans were on to move her abroad for medical treatment. But AIADMK leaders denied the reports. The party later tweeted that Chennai Police had filed an FIR against a woman for spreading rumours about Amma's health.
Dravida Munnetra Kazhagam (DMK) president Karunanidhi had also asked the Tamil Nadu government to clarify the CM's health status through an official statement along with her photographs to put an end to all the rumours around her health.