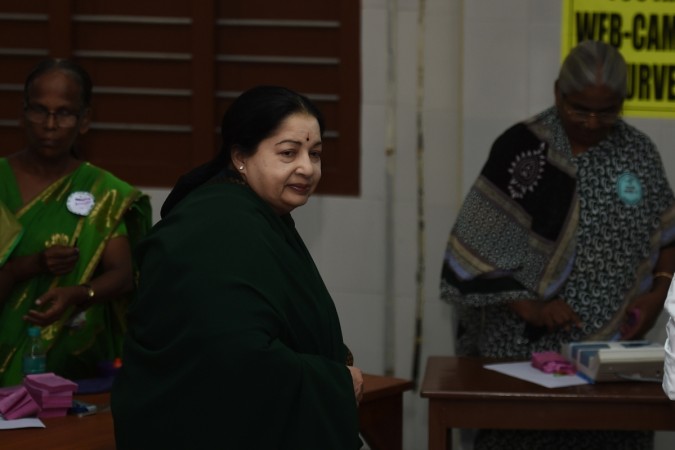 All India Anna Dravida Munnetra Kazhagam (AIADMK) supremo and Tamil Nadu Chief Minister Jayalalithaa's health has been a matter of concern of late, and speculations around her condition have caused anxiety to her supporters and the public alike. Now, her arch-rival in politics and Dravida Munnetra Kazhagam (DMK) president Karunanidhi has come out in public, demanding the state government to put an end to all the rumours around her health through a clear message along with her photographs.
Rumours around her health have gone out of hand of late with people spreading false information on social media that she has been put on a ventilator. It went to the extent of "Jayalalithaa death" becoming one of the most searched keywords on search engines on Thursday, and this happens despite Apollo Hospitals, where the CM has been admitted to, issuing updates about her health.
Now, Karunanidhi has demanded that the Tamil Nadu government must make Jayalalithaa's health condition public and end unnecessary rumours.
"As I had already mentioned, though I differ with her ideologically, it is my desire that she recovers soon and takes up official duties as usual," Karunanidhi said in a statement.
"Some persons are spreading unwanted rumours about her health on the social media and to put an end to these, proper information about the Chief Minister's health must be made available to the people," he added.
The DMK president also lamented that neither union ministers nor the Tamil Nadu governor have visited the CM so far. He also questioned why a committee of doctors wasn't formed to monitor her health even after a week of illness.
AIADMK spokesperson CR Saraswathi said on Thursday that Jayalalithaa, 68, is well and hearty, and that she would be discharged from the hospital soon. Apollo Hospitals has also sent out a statement saying that she was responding well to treatment and has been advised to stay there for a few days for "recuperative treatment."
Jayalalithaa was admitted to the hospital on September 22 after she complained of fever and dehydration.