In its latest bulletin on Tamil Nadu Chief Minister and All India Anna Dravida Munnetra Kazhagam (AIADMK) supremo Jayalalithaa's health, Apollo Hospitals has said that Amma is under constant monitoring by intensivists and consultants, and "respiratory support is closely watched."
Jayalalithaa, 68, was admitted to Apollo Hospitals in Chennai on September 22 for fever and dehydration, but it has turned out to be more serious than it was initially thought to be.
The hospital, in its latest bulletin on Saturday, said that the team of doctors treating the CM is closely watching and adjusting respiratory support for Amma and lungs congestion treatment is being continued.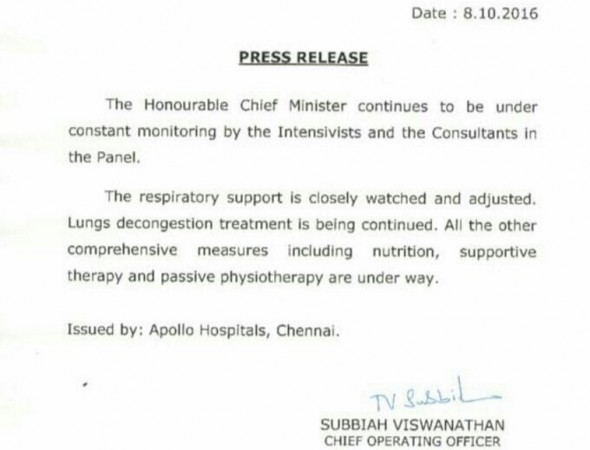 Jayalalithaa's health is being constantly monitored by a team of experts. Dr Richard Beale was flown in from London on September 30 to treat her, and three doctors from AIIMS are monitoring her health besides doctors from the Apollo Hospitals.
It was initially said that the CM was hospitalised for fever and dehydration, but hospital authorities were forced to reveal more details of her health condition after curiosity from the public created unnecessary rumours.
Dravida Munnetra Kazhagam (DMK) president Karunanidhi had earlier demanded that the state government clear rumours around Amma's health through an official statement along with her photographs. A public interest litigation (PIL) has also been filed by social activist K R Ramasamy, seeking to know her health condition.
The hospital has been sending out bulletins on Jayalalithaa's health regularly, but that doesn't seem to satiate the public who want to know more. She has been in respiratory support and taking antibiotics to treat the infection.
The CM's niece, Deepa, had earlier complained that she wasn't allowed to meet her aunt in the hospital. Congress vice-president Rahul Gandhi didn't meet her in person during his visit to the hospital.