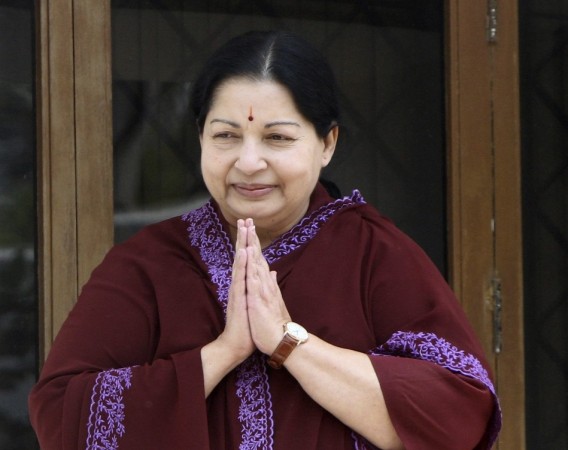 Tamil Nadu Chief Minister J Jayalalithaa, who has been admitted to Apollo Hospital in Chennai due to fever and dehydration, has resumed her official duties in the hospital. The CM held a meeting on Tuesday, September 27, on the interim directions issued by the Supreme Court on the Cauvery issue between Karnataka and Tamil Nadu.
"Honourable Amma convened a meeting between 4.30pm & 5.30pm today in Apollo hospital on the interim directions issued by SC on cauvery issue," AIADMK tweeted on Tuesday evening.
Hoax busted: Jayalalithaa's 'ICU photo' goes viral; here are 5 reasons why it is a fake image
"The Hon'ble Chief Minister was apprised of the directions of the SC today on the Application filed by Tamil Nadu and Karnataka with reference to the orders of the Supreme Court dated 5/6.9.2016, 12.09.2016 and 20.09.2016 along with the application filed by Tamil Nadu on 26.09.2016 that Karnataka shall not be heard on any matter on Cauvery until and unless it complies with and makes good the shortfall in releases as directed by the Supreme Court [sic]," reads the statement released by AIADMK on social media.
"The Hon'ble Chief Minister was apprised that the matter has been posted for further hearing at 2 pm on 30.0.2016. The Hon'ble CM was also apprised that the Supreme Court had directed the Attorney General to facilitate a meeting with Executive Heads of the States of Tamil Nadu and Karnataka with the Ministry of Water Resources to recommend ways to break the impasse in the issue. The Hon'ble CM was informed that the above meeting is likely to be scheduled on 29.0.2016 (Thursday)," reads the official statement.
Jayalalithaa has also directed few officials to attend the meeting on behalf of the State of Tamil Nadu.
The meeting on Tuesday was also attended by Chief Secretary to Government Dr P Rama Mohanan Rao IAS, Advocate General Thiru R Muthukumaraswamy, adviser to government Tmt. Sheels Balakrishnan IAS, Principal Secretary-I to CM Thiru KN Venkataramanan IAS and Secretary-IV to CM Thiru A Ramalingam IAS.
Read more: Jayalalithaa to be discharged soon
Meanwhile, the hospital authorities have confirmed in a statement that Jayalalithaa will be discharged soon as her health is improving. Rumours had it that she will be moved to Singapore for further treatment, but they were refuted by Subbaih Viswanathan, the spokesperson of Apollo Hospitals.
The latest reports also suggest that Jayalalithaa has also approved the list of party candidates for local body elections.
Read the full statement issues by AIADMK on Jayalalithaa's meeting on Cauvery issue here: