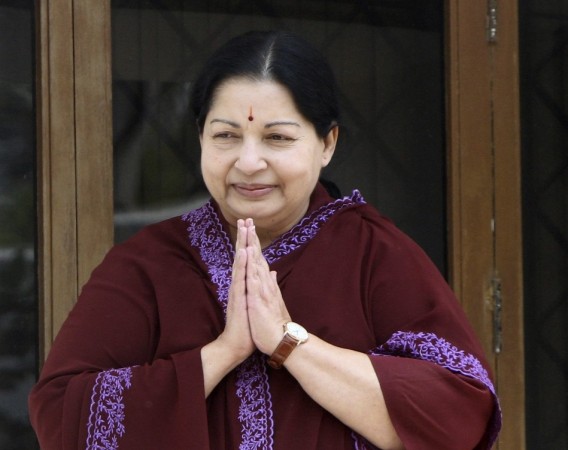 The AIADMK has been regularly releasing updates of their leader and Tamil Nadu Chief Minister J Jayalalithaa's health ever since she was admitted to the hospital last week. Politician Thol Thirumavalavan on Monday told the media that he had visited the hospital and she was recovering well.
Thirumavalavan said that she was on the second floor of the hospital and no restrictions had been placed on the movement of public on that floor. Ousted AIADMK Rajya Sabha member Sasikala Pushpa demanded that health details of the Tamil Nadu CM be released. She has added that even the Health Minister has no inkling about Amma's health.
Apollo Hospital, where she was admitted on September 22, also released a statement on Sunday saying she was responding well to the treatment being given to her. Party spokesperson CR Saraswathi has reportedly asked people not to believe rumours and stated that Amma was fine. Meanwhile, Dr Richard Beale from the UK had been flown in to assess her health condition and treatment. He has reportedly left Chennai now.
This is the first time that Jayalalithaa has been admitted for such a length of time in a hospital in Chennai. Rumours have been flying around about her health and how critical she is though statements released by the party and hospital say she is recovering. The politicians who visited the Chief Minister in the hopsital have also not revealed whether they actually spoke to Amma or even met her. There is a clamouring from the DMK to release pictures of Jayalalithaa to prove that she is indeed fine. However, neither the party nor the hospital has complied with this request.
Who is Dr Richard Beale?
Dr Richard Beale of the Guy's and St Thomas' Hospital, London, had been specially flown down to Chennai to assess Jayalalithaa's health condition. The clinical director for perioperative, critical care and pain services arrived in Chennai on September 30 and reportedly 'concurred with the current line of management' for her. According to the hospital website, Dr Beale's area of expertise is 'acute lung injury, severe sepsis, critical care informatics and nutrition in the critically ill'. He also has expertise in sepsis, ARDS, haemodynamics, critical care nutrition and intensive care (ICU) informatics.