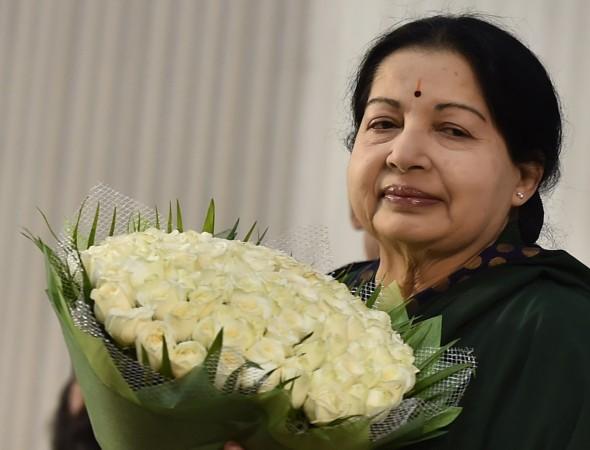 Praying for the quick recovery of Tamil Nadu Chief Minister Jayalalithaa's health, a group of her supporters offered gold and silver jewellery worth Rs 1.61 crore in donation to Sri Chamundeshwari Temple in Karnataka's Mysuru district on Friday. The head priest of the temple, named after Chamundeshwari or Goddess Durga - the fierce form of shakti, said that five people visited the temple and performed a special puja for the speedy recovery of Jayalalithaa.
The Tamil Nadu CM has not been keeping well and is currently under close observation of a specialist from London for treatment of respiratory ailments. A team of three doctors from AIIMS are also keeping a close watch on her health.
Jayalalithaa is under treatment and observation for all vital parameters, respiratory support and physiotherapy at the Apollo Hospitals in Chennai.
The temple authorities said that the donations made by Jayalalithaa's supporters were registered under the names of Sri Jaya Publications, Chennai, and the Kodanad Estate, Nilgiris.
Sri Jaya Publications donated articles comprising of 1,689 grams of gold and 4,852 grams of silver to the Ganesha idol at the temple, while Kodanad Estate donated articles made of 4,710 grams of gold and 14,980 grams of silver to the Hanuman idol. The local jeweller valued the amount of offerings at Rs 1.61 crore.
The Director of Medical services of Apollo Hospitals on Friday had said that the 68-year-old Tamil Nadu CM is recovering and progressing gradually. "The Honourable Chief Minister continues to be under treatment and observation for all vital parameters, respiratory support and passive physiotherapy...The nutrition and the essential nutrient intake are being attended to by senior consultants from the dietary team," a statement from Apollo said.
On Thursday, the All India Anna Dravida Munnetra Kazhagam (AIADMK) had said that the party's leader was "completely well" and will soon return home.