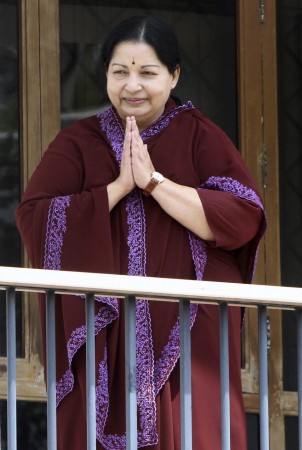 While the media hype still continues over BJP's invitation to Pakistan Prime Minister Nawaz Sharif to attend Prime Minister-designate Narendra Modi's swearing-in ceremony in Delhi, Tamil Nadu Chief Minister J Jayalalithaa condemned the party for inviting Sri Lanka President Mahinda Rajapaksa to the ceremony.
In a harshly worded statement, the Tamil Nadu CM stressed: "The sentiments of the people of Tamil Nadu and Tamils living in other parts of India and abroad are well known in the matter pertaining to Sri Lankan Tamils. There has been a general election to the Lok Sabha and a new government is to take charge in a few days, but this in no way alters the already existing strained relations between Tamil Nadu and Sri Lanka."
Jayalalithaa reminded BJP that the outgoing UPA government had ignored Tamil Nadu's Assembly resolutions, with regard to dealing with Sri Lankan Tamil refugees. The CM added that she was expecting the new BJP-led government at the Centre to understand Tamil people's sentiments.
"We had hoped that the new government would be sympathetic to the cause of Tamils and friendly to the Tamil Nadu. However, even before the new Prime Minister and the new government assume office, this unfortunate move of inviting the Sri Lankan President to attend the swearing-in ceremony has deeply upset the people of Tamil Nadu and wounded their sentiments all over again. This is tantamount to rubbing salt into the wounds of the already deeply injured Tamil psyche," the Chief Minister pointed out.
Jayalalithaa said that India and the entire world knows about Tamil Nadu Assembly's resolutions passed during the last three years, pertaining to war crimes in Sri Lanka. The resolution condemned the ethnic programme and the genocide perpetrated against Sri Lankan Tamil people, by the Sri Lankan army under the President Rajapaksa's government during the final stage of the civil war, Jayalalithaa reminded.
Modi bids goodbye to Gujarat, leaves for Delhi
Meanwhile, Modi left for Delhi on Thursday after saying goodbye to his home state Gujarat, after entrusting the reigns of the state's administration to new Chief Minister Anandiben Patel.
Modi has served as the Gujarat CM for more than 12 years, starting 7 October 2001.
"When I am leaving for Delhi, as per our tradition, I would like to say 'Aavjo' to 6.25 crore people ... 'Aavjo Gujarat (goodbye Gujarat)," The Times of India quoted Modi at the Ahmedabad airport.
Modi will take oath as India's next Prime Minister on Monday.
"I would like to thank all the media persons, be it reporters of television channel, print media, editors, columnists, from the bottom of my heart for their cooperation in the last 13 years. I am hopeful that we will continue to work for development of Gujarat and India," he said.