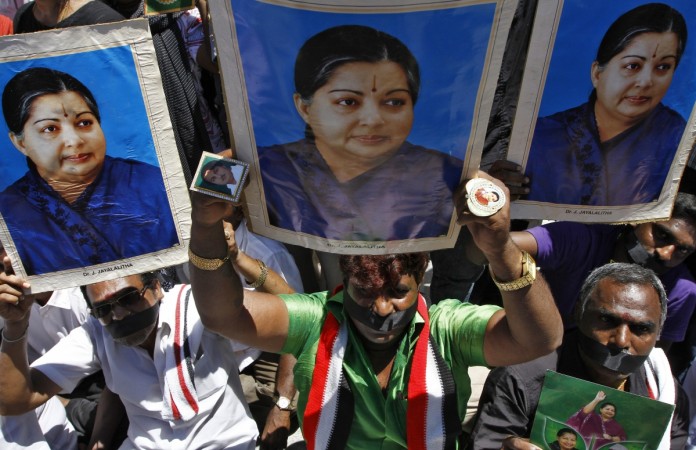 Even as the hearing in J Jayalalithaa's bail plea is underway in the Karnataka High Court, a controversial poster has come up in Chennai, with a threatening message to Kannadigas residing in Tamil Nadu if the hearing does not go in favour of the AIADMK chief.
A local AIADMK leader, KC Vijay, has reportedly put up a poster, which warns Kannadigas living in the state that they would be 'held hostage' if Jayalalithaa is denied bail by the Karnataka High Court, as reported by Hindustan Times.
The message on the poster reads: "Warning: If Jayalalithaa is not released immediately, we will hold Kannadigas living in Tamil Nadu hostage."
Jayalalithaa was convicted by a special court in Bangalore on 27 September in the disproportionate assets case and has been living in a Bangalore jail for the last ten days.
Police security has been increased following pictures of the poster being shared by the media, and the Chennai police has assured that the miscreants will be brought to book.
Bangalore police commissioner MN Reddy reportedly communicated concerns with the Chennai police who have assured Kannadigas in the state that they will be safe.
Violence is expected to break out in the state of Tamil Nadu in case of a negative decision.
AIADMK, however, has distanced themselves from the controversial posters springing up in the state.