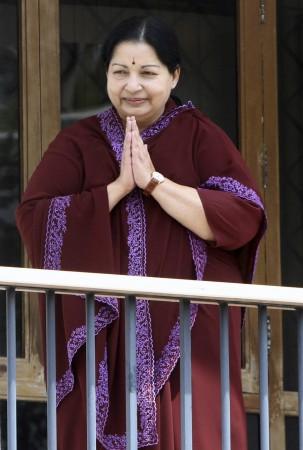 Tamil Nadu Chief Minister, J Jayalalithaa, is in Bangalore and is scheduled to appear on Thursday, in a special court in connection with the disproportionate assets case.
The Chief Minister flew in on a specially chartered plane and landed at the Hindustan Aeronautics Limited (HAL) airport. She left immediately, to attend court proceedings at Parapana Agrahara.
"It's nothing new in it; I don't view it as a setback. I have appeared in various courts before," said Jayalalithaa, on her appearing in a Bangalore court. In September, her plea against a personal appearance was rejected by the apex court. Jayalalithaa's close friend, Sasikala Natarajan has already made an appearance before the court.
Earlier, the Supreme Court rejected her plea to postpone the hearing by a few days. Jayalalithaa's counsel argued that the Karnataka government had failed to provide sufficient security, even as the state assured the apex court of foolproof security measures, in accordance with Jayalalithaa's Z plus security category status and elite National Security Guards (NSG) cover.
The 63-year-old Chief Minister had also failed in attempts to shift the venue of the proceedings closer to the Jakkur airport; both the apex and Special Courts rejected that last-minute plea.
The hearing, scheduled to begin on Thursday, has seen a tight security blanket thrown on the path from the airport to the Agrahara. The city police have imposed Section 144 around the court premises and will enforce it until the end of the hearing.
The case itself relates to the alleged accumulation of assets disproportionate to known income; a total of Rs. 66 crores is at stake, gathered from 1991 to 1996, when Jayalalithaa was Chief Minister of Tamil Nadu. The accusations were formally made by Subramaniam Swamy in 1996 and later pursued by the DMK. In 2001, after Jayalalithaa returned to power, the case was transferred by the Supreme Court to Karnataka.
"This is the stage where the incriminating circumstances as appearing in evidence would be put to the accused to answer the same. We are at the stage where the court would put questions to the accused and accused will be given the opportunity of answering the same," said prosecuting lawyer Sandesh Chouta, according to a report by IBNLive.
Special Judge B Mallikarjunaiah will record her statement at 11 a.m. The hearing will continue till 2 p.m., for a hour-long lunch break, before finishing at 5 p.m.