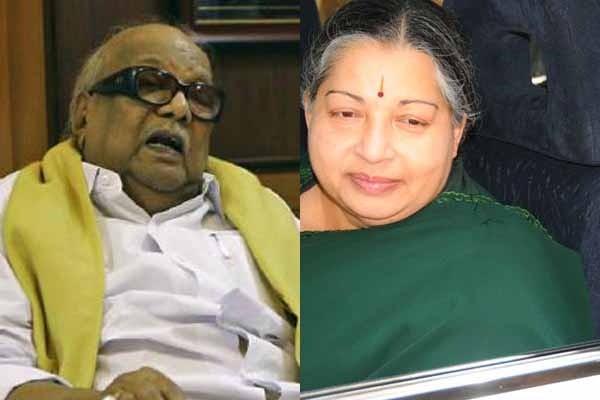 Arch-political rivalries AIADMK and DMK leaders, Jayalalitha and Karunanidhi, stand united in pushing Sri Lankan contingent of trainees out of India, from where they received army training.
Former Tamil Nadu Chief Minister Karunanidhi has thrown his weight behind Jaya's demands to stop the training and send the Sri Lankan soldiers back to the southern island. The DMK accused the Centre of being insensitive to the sentiments of innocent fishermen, who are continually attacked by the Lankan army. Karunanidhi said that Sir Lankan soliders should not be trained on Indian soil.
Jaya was the first leader to raise the protest banner against India nurturing Sri Lankan army training in the country. She sent a series of communication to the Centre and Defence Ministry on the issue of training army men from the war-torn island.
Jaya even flexed her political muscle to send a clear message to the Centre over her stand on the Sri Lankan issue. As the Tamil Nadu chief minister, she bundled up the Sri Lankan student soccer team, which was in Chennai earlier this month for a friendly match.
Further widening her iron hand in showing her despise over the island nation, Jaya even suspended the stadium officer of the Tamil Nadu state-owned Nehru Indoor Stadium and initiated departmental proceedings against him, saying that the officer disgraced state people's sentiments by permitting the event to take place, thus serving as a prelude to the Colombo authorities about the Tamils' mindset over them.
Sri Lankan pilgrimage faces wrath of Tamil Nadu
According to reports, several buses carrying about 178 Sri Lankan pilgrims were attacked in Nagapattinam on Tuesday by pro-Tamil outfits. Though no one was said to be hurt, windowpanes of the attacked buses were significantly damaged due to stone pelting by the mob.
The pilgrims were attacked when they were returning from the famous Christian shrine, Velankanni in Nagapattinam district. Police stepped in time and took control of the situation.
The officials claimed to have arrested nine people believed to be from Naam Tamizhar Iyakkam (NTI) party. The NTI activists were accused of carrying out the attacks in sympathy with the LTTE outfit of Sri Lanka.
This is the second such attack directed against Sri Lakan pilgrims. On Monday, they were also attacked during their visit to Poondi Madha Christian shrine near Thanjavur district in Tamil Nadu.