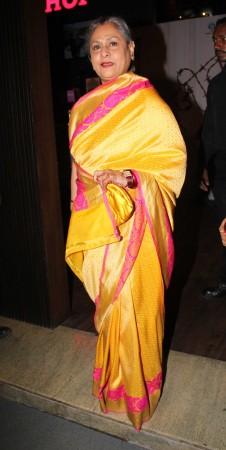 While Abhishek Bachchan is garnering appreciations from the audiences for his stupendous performance in Shah Rukh Khan's "Happy New Year", his mother and yesteryear actress Jaya Bachchan seems to be not quite delighted with it.
During a recently concluded literature festival in Mumbai, Jaya, who is known to be outspoken was quite vocal about "Happy New Year". Despite her son being a part of the successful film, it didn't deter her from slamming the film in a public platform.
"HNY is the most nonsensical film I've seen in recent years. I said that to the film's lead actor as well. I watched it only because Abhishek was part of it. I told him he's a great actor if he can act stupid in front of the camera like that. I can't be part of what is being done in films these days and hence I don't do films anymore," she mentioned, according to a Deccan Chronicle report.
The actress made her point while discussing the topic, "the failure of literature in informing current cinema". Depicting Shah Rukh starrer "Happy New Year" as an example, she mentioned that it is a 'nonsensical' film.
"Unfortunately cinema today is about business, not art. We call good films art house cinema. What does that even mean? All cinema is art," Jaya further added.
The actress, wife of megastar Amitabh Bachchan, has been a part of some iconic films. Her performances in "Guddi", "Mili", "Abhimaan", "Bawarchi", "Upahaar" were critically acclaimed.
Meanwhile, despite receiving some negative remarks from critics and viewers alike, "Happy New Year" is minting huge money and has broken all box office records. Apart from Shah Rukh and Abhishek, the film also stars Deepika Padukone, Boman Irani, Sonu Sood and Vivaan Shah in important roles.