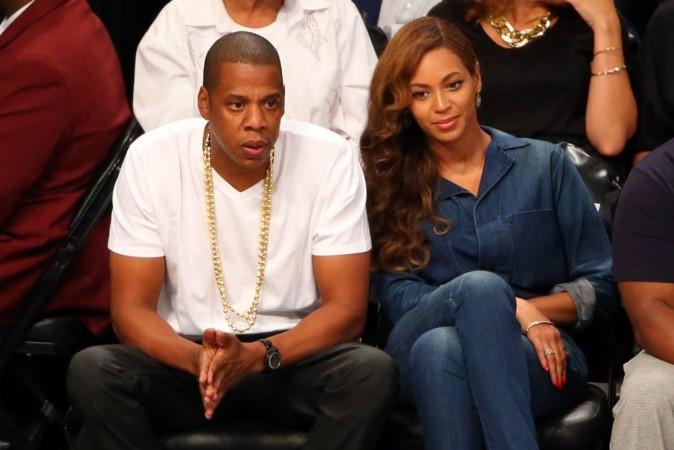 In what would come as a shocking revelation, celebrity couple Beyonce and Jay Z reportedly skipped Kim Kardashian and Kanye West's weddingas they think it was "too low-rent".
Beyonce and Jay Z, who are currently entangled in their wedding crumbling drama, allegedly avoided the wedding to save their royal hip hop status.
"They are guarding like hell their status," the source told Page Six. "Beyoncé wasn't going to allow a Kardashian to socially climb her. And Jay didn't want Kanye with Kim — he thinks it's bad for business. I think Jay lost a little respect for Kanye there."
Beyonce and Jay are quite careful about their brand and would not compromise it for any reason, as per the report.
In spite of having marriage problem after being dogged by cheating rumors, being together means business for them. They are currently on "On The Run" tour together.
"There's still something there, even though it's not going to last," said the source. "Business is always part of the equation. They know they're the king and queen of hip-hop — and really, all of music. Neither wants to lose that."
Surprisingly, the couple is said to so concerned about their status that they consider themselves sharks and hang out with only few people whom they consider worthy.
"They don't subscribe to that 'teach-a-person-to-fish' thing," the source said. "They'll give you a fish once in a while, but they let everyone know that they're the only sharks in the water. Jay hangs with some of the crew from [his company] Roc Nation, but he's doing bigger things than even they can keep up with. And Beyoncé only really gives her sister Solange and [ex-Destiny's Child members] Kelly Rowland and Michelle Williams any real love. But even they can't swing by without first getting clearance."
Beyonce and Jay Z have been trying to put down rumors of their marital problem by sharing intimate moments on stage while touring together and happy family photos have also been posted on social media but the story seems to be different once they are out of the limelight.
They have been dogged by rumors of sepration ever since Jay's alleged close relationships with other female artists hit the headlines. However, it was his infamous fight in an elevator with Beyonce's sister Solange Knowles after the Met Ball in May that sparked off speculations of a divorce.
Jay Z and Beyonce are yet to comment on reports around their marriage.