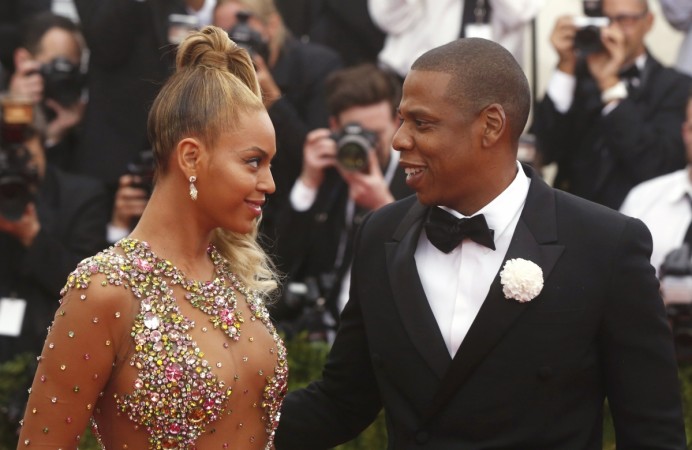 Jay Z and Beyoncé were recently spotted without their wedding bands shortly after her new studio album "Lemonade," which is filled with themes of infidelity, released. This has given momentum to rumours of marital problems, with some claiming a divorce will soon follow.
Beyoncé was photographed backstage on the first night of her Formation World Tour on Wednesday without her $5 million diamond ring. Interestingly, Jay Z was also not wearing his wedding band that night. Queen Bey attempted to thwart rumours of marital woes during her performance of "Halo" on Wednesday by giving a shout out to Jay Z. "I want to dedicate this song to my beautiful husband," she said, "I love you so much."
"Lemonade" has become an instant hit ever since its release on April 23, and according to a source the couple could be playing up the infidelity theme to further increase the album's popularity. According to a Page Six source, it is a brilliant marketing scheme.
"They develop these storylines to sell albums. Lemonade is a movie crafted to drive sales," the source said. "Jay and Beyonce are entertainers at the top of their game. Do you think Jay would release her album on [his own label] Tidal if it really was all about him? He is 100 per cent behind this."
Another source echoed similar sentiments saying Jay Z was involved in the creation of "Lemonade." The rapper is yet to comment on infidelity rumours that gained traction shortly after "Lemonade" released, but he was prepared for the inevitable accusations that were sure to follow, a source revealed to E!Online.
"Jay was involved in the creation of Lemonade and knew every song Bey was going to release. He knew the lyrics; he knew the implications. He had to approve the songs before release. Jay is a very smart businessman...Bottom line is that they are both really smart and they both saw dollar signs."