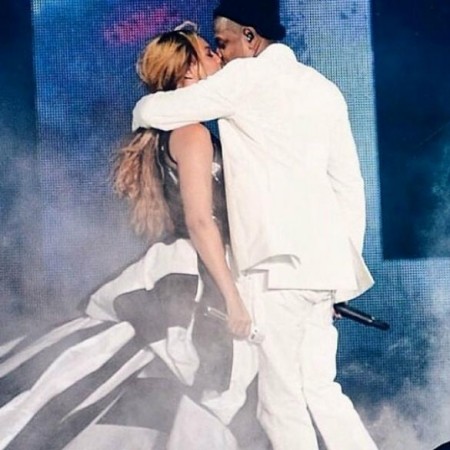 Jay Z and Beyonce's ongoing 'On the Run' tour might be a success but rumors, claiming the couple are strongly considering a divorce, have only grown in the last few weeks as reports note that the two are leading "separate lives" during the tour.
In a first, the couple recently shared a passionate on-stage kiss during the tour in Cincinnati. It was seen as a sign that they have decided to patch things up. However, reports now suggest that the truth might be far from it.
Since the tapes showing Jay Z's elevator fight with Beyonce's sister Solange emerged, the celebrity couple's relationship has turned turbulent. There have been a barrage of reports about the couple, claiming that the two were headed for a divorce, following Jay Z's alleged cheating scandals.
It has been reported that Jay Z cheated on Beyonce with at least five women. The pop diva was deeply hurt by the revelations and was said to be considering a divorce. The couple has also been seeing a marriage counselor.
Amidst reports of divorce, Beyonce and Jay Z kicked off their joint tour on 25 June in Miami. During the concert, the couple, in an attempt to dispel rumors surrounding their marriage, played parts from their wedding video.
The video showed the couple exchanging vows during the 2008 wedding. The clips also showed pictures of the couple's daughter Blue Ivy.
The couple might be displaying a show of togetherness while on the show but reports claim that they remain estranged. It has been reported that the couple are together only during the performances.
Jay Z and Beyonce are not only travelling separately but also have their own separate living arrangements for the tour, reported Contact Music.
The report quoting a source revealed that "they might be sharing a stage, but while on tour they'll live practically separate lives." In short, Jay Z and Beyonce are "travelling between venues independently" and "staying in different hotel suites".
The source also revealed that the couple have "separate entourages". In all probability, the marriage is headed downhill as "tensions between them (Jay Z and Beyonce) are worse than ever".